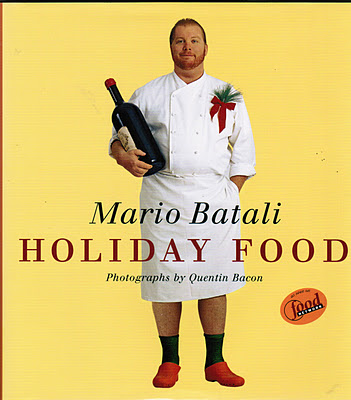 Since it is highly unlikely I will never actually eat at Mario Batali's house for Christmas, his cookbook is the next best thing.  I am a big Mario fan, and this might be my favorite of his cookbooks because it is filled with his family recipes and those he has collected in Italy.  Mario says every grandma, aunt, cousin, and mother contribute to the holiday food table, each with their own specialties passed down through the generations.   Perhaps the best of these holiday meals is "La Vigilia," also known as the "Feast of the Seven Fishes."  It is replete with seafood served in every way imaginable, from baked and fried to chilled in a salad or stuffed into pasta shells.  Other days might be meat dishes, supplemented by antipasti, and of course, Italian cookies.  Oh, the cookies. 
In the Batali household, planning for the holidays begins in October.  Meals are mapped out, rentals are ordered if needed for a crowd, grapes are cured, and beverages planned.  One of the decorative traditions is to have the house lit entirely by candlelight.  Can you imagine eating the sea bass ravioli with marjoram and potatoes, or the grilled lobster with lemon oil and arugula by candlelight – then followed by cannoli or a cinnamon chocolate pudding with pine nuts?  Get out the candles.  What I love about Mario's cooking is that he does everything, and you can sense he puts his heart and soul into everything he makes, probably because of his wonderful memories growing up in a household that savored family, good food, and tradition.
If you have watched Mario on the new daytime television show, "The Chew," you know what he says at the intro-  "There are two kinds of people, those who are Italian and those who wish they were Italian."  I have to say, I would wish to be Italian for one day at the Batali family table.  By candlelight.