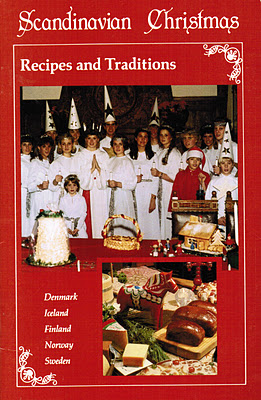 The holiday atmosphere prevails for a longer time in the Scandinavian countries than in America.  The celebration begins from the first day of Advent in early December through Twelfth Night, or St. Knut's Day on the 13th of January.  No wonder the Scandinavians make so many wonderful cookies and breads – they start early!  Festivities go on longer than a month.  The Danes make traditional red and white paper hearts along with their heavy baking schedule.  Some of the favorite cookies are pink clouds (coconut meringues), chocolate-marshmallow bars, Danish white cookies, spritz, and peppernuts.  Christmas Eve dinner is usually a goose.  If you have never cooked a goose before, go to my daughter Kristina's blog on "The Daily Dish" of BetterRecipes.com and
watch her video
on step-by-step preparation.  Alongside the goose in many Danish households are mashed potatoes, red cabbage, and rice pudding for dessert. 
In Sweden on December 13th, St. Lucia Day, the celebration begins before dawn when the eldest daughter serves saffron buns and coffee to her parents.  Swedes enjoy a spiced wine called glogg which means "glow."  The name derives from the burning of sugar over the drink.  Christmas Eve dinner could be Swedish meatballs, boiled potatoes with parsley, green peas, and an assortment of Christmas cookies for dessert. 
A Norwegian Christmas Eve menu would include lutefisk, meatballs, lefse, and rice pudding with raspberry sauce.  An Icelandic meal could be roast leg of lamb with potatoes browned in sugar.  Finns enjoy ham with prunes, carrots and rutabagas, salads of cucumber or beets, and again, rice pudding.  The cookbook is filled with traditional recipes, traditions, and historical facts from all of Scandinavia.  It's a great little cookbook.
My Finnish-American husband loves to have "kropsu" sometime during the holiday season.  It's an oven pancake that we cover in powdered sugar then serve with lingonberries.  I always use my Le Creuset casserole pan to make it and the sides puff up and get very crusty and buttery.  It's heavenly.  In fact, it's so good, I'll give you the recipe so you can enjoy it, too. 
Kropsu:  Finnish Baked Pancake
1/2 cup unsalted butter
2 eggs
2 Tablespoons granulated sugar
1/2 teaspoon salt
2 cups milk
1 cup all purpose flour
Powdered sugar, lingonberries, hot sausage links
Heat oven to 400 degrees.  Place butter in a heavy 9-by-13-inch pan, such as a Le Creuset.  Put in oven until the pan is very hot and the butter is melted.  While it is heating, break the eggs into a bowl.  Stir in the sugar and salt.  Add the milk alternately with the flour.  Remove hot pan from oven and pour the melted butter into the flour mixture and stir quickly to combine.  Immediately pour back into the hot pan and return to the oven.  Bake about 45 minutes or until it is very nicely browned and puffy.  Serve immediately.
There are several ways to serve the pancake.  We like it dusted liberally with powdered sugar and served with lingonberries.  My husband's Finnish cousin (this is her recipe) likes hers with a wild raspberry sauce.  The pancake is also wonderful served with maple syrup and hot pork sausage links. 
The secret of success to making this pancake is a thin batter and a sizzling hot pan and very hot butter.  If the pan isn't hot enough, or the pan isn't heavy and sturdy enough,  it just doesn't work.  I tested out a couple different pans before it came out perfect.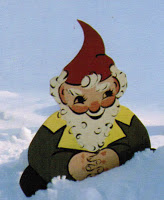 Hyvaa Joulua!
God Jul!