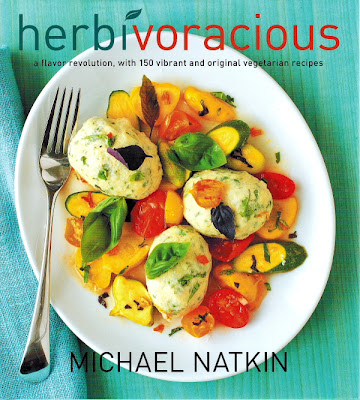 If your idea of vegetarian cooking is like my husband's, who thinks it means some soy crumbles or mushy tofu, then this revolutionary book will wake up your palate with big bold flavors and amazing ingredients.  Vegetarian cooking has as much diversity as recipes using meats.  It is now so easy to take advantage of all the ingredients offered in most grocery stores across the country.  Our palates have become global, and vegetarian cooking can be multifaceted and sophisticated, yet easy to prepare in any kitchen.
When I spotted this display poster at my hometown library, I couldn't wait to sign up.  I called my friend Jean to see if she wanted to go, too, as her daughter is vegan.  Although the book is mainly vegetarian, there are many recipes also listed as vegan or gluten free. 

Being a cookbook collector and lover of everything to do with food, I have met many cookbook authors, chefs, and fellow home cooks over the years.  I have learned that it's easy to spot the cook who is passionate about food and understands it, and wants nothing more than to share this enthusiasm and knowledge with you.  Michael Natkin is one of the passionate ones. 
Michael's introduction to vegetarian cooking began with a heart-breaking event in his teenage life.  His mother was dying after a decade-long battle with breast cancer.  She wanted to try a macrobiotic diet, hoping it could help her condition, even though she was too weak to do much cooking.  Even after his mother passed away, Michael continued to cook vegetarian.  At college, he learned to love foods including Indian, Thai, Portuguese, and more.  At one time, he even lived in a co-op with thirteen other people who took turns cooking.  Several months were spent at a Zen center near San Francisco, planting and working in the fields growing potatoes, greens, and other vegetables.  After eating his way through numerous countries and almost all of the USA, Michael decided to write a blog he called "
Herbivoracious
." 
After returning home, I couldn't wait to dive into the book.  The first chapter I turned to was breakfast.  I was thrilled to see the first recipe of buckwheat buttermilk pancakes.  I am a sucker for buckwheat, and couldn't wait to make them for breakfast the next morning.  We devoured them so quickly, I forgot to take a photo!  Next up will be the Dutch Baby with sauteed apples.  Since I am going to ease my meat-and-potatoes husband into at least two meatless dinners a week from now on, it will be easy since a third of the book is for main dishes, including sandwiches, tacos, pasta, vegetable stews,  lasagna, mac-and-cheese, and enchiladas.  I don't think my husband will ever miss his buffalo meat.  First up will be the "Paella Cakes with Manchego and Marmalade," which includes smoked paprika and cinnamon, an intriguing flavor combination.  Our local Farmer's Market opens soon, and I will have no problem finding everything I need to make the recipes.  Diving into this book is going to be an adventure and a pleasure.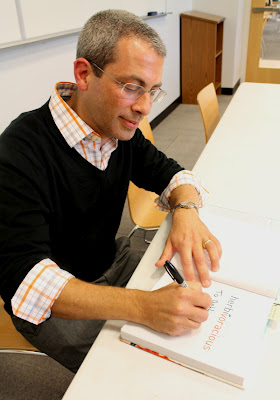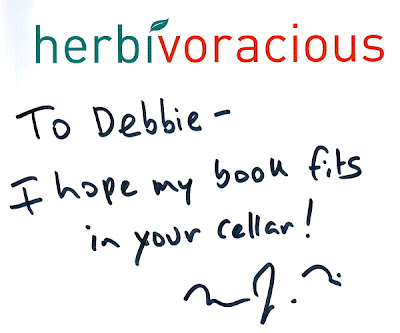 Oh, yes.  This wonderful book will definitely fit into my culinary cellar with its thousands of cookbooks, but for now, I think it will reside on my kitchen counter upstairs so I can use it daily.