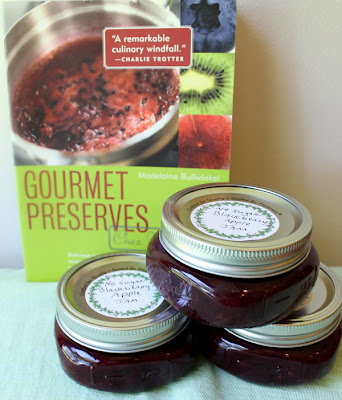 My Great-Aunt Margery from Iowa was the first person who I observed canning food from her own garden.  She had a beautiful, full garden in her tiny town of Wyoming, and stored her goods in a root cellar; and I mean a real cellar that bordered on being spooky.  There was a squeaky door in the kitchen that led down twisty, dark uneven stairs to a dirt floor with rickety wood shelves lining the walls.  I had to dodge cobwebs, and I'm sure a spider or mouse here and there.  I hated going down there as a child, thinking I would surely be kidnapped by a troll, or something equally unsettling.  But I loved what I brought back up to the warm and cozy kitchen. 
My favorites were green beans, dill pickles, and homemade jams.  There was nothing like spreading Aunt Margery's jam on her homemade biscuits or breads.  I think of her every time I make jams.  I have collected many canning and preserving books over the years, and continue to search for new ones.  Gourmet Preserves by Madelaine Bullwinkel is one of my favorites.  I have made many of the recipes in the book, but had never attempted the sugar-free jams.  Since I am a huge fan of blackberries, I decided to try the "No Sugar Apple Blackberry Jam."  The day before, my daughter Kristina decided she wanted to try the "No Sugar Peach Raspberry."  The blackberry jam was good with my Greek yogurt snack that I have almost every day.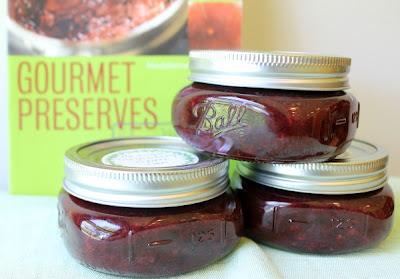 Just a few days after making the jam, I received a surprise package from my friend Brett.  Brett lives in Pennsylvania in a breath-taking restored house that was featured in Better Homes and Gardens magazine.  Brett is the male version of Martha Stewart.  He is simply amazing.  Brett puts the same effort into his wonderful preserves and canned goods as he does restoring his home.  The box contained heirloom strawberry preserves, dill pickle slices, green tomato chutney, and his homegrown garlic.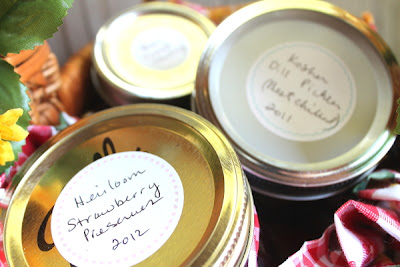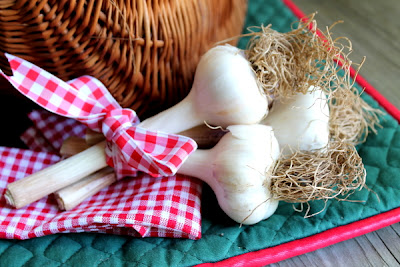 When I opened the jar of strawberry preserves, the fresh aroma hit me in the face.  It was like standing in a strawberry patch.  Best strawberry preserves ever, hands down.  The pickles were equally amazing.  I had to stop myself from eating the entire jar.  Since today is very hot here in the Chicago area, I am going to make some pesto using the basil from my friend Lisa, and Brett's garlic. 
One of the delights of home canning and preserving is sharing it with your friends and family.  There is nothing like a gift of something you made yourself.  Thank you Brett, for your generosity and the best jam in the country.  I think Martha would approve.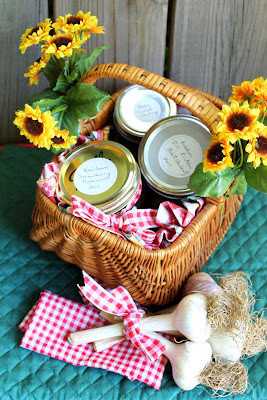 And…. speaking of Martha…. here is Brett with Martha at the last Pillsbury Bake-Off, where Brett won $5,000 for his incredible "Orange Cream-Macadamia Torte."