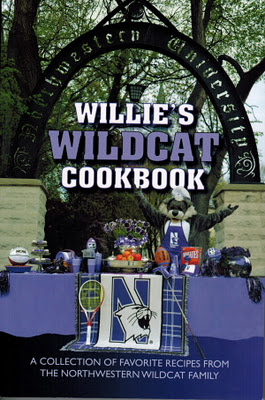 Okay, I'm just a little prejudiced.  No matter what, I will always be behind the Northwestern University Wildcats.  My daughter Kristina is a graduate of this incredible school.  As I was browsing in my downtown area at our wonderful local kitchen and cookware store called "Someone's in the Kitchen," the owner Bonnie asked me if I had bought Kristina this cookbook for Christmas.  I immediately grabbed the book without even looking at it.  Sometimes school cookbooks can be a little lackluster, but I was pleasantly surprised at the quality of the recipes. 
The chapters are divided into the various athletic departments:  Appetizers are cross country, beverages are swimming and diving, breakfast is football, salads are lacrosse, main dishes are soccer, tennis is side dishes, soups and stews are golf, breads are basketball, desserts and confections are baseball/softball, volleyball has a this 'n that category, field hockey is the training tables, and wrestling has cooking and tailgating tips.  The index has facts on the fencing team.  The recipes are really good – too many to name- but there is everything from "Willie's Purple Pride Cookies," a thumbprint cookie using concord grape jam as the filling to give an NU effect, to Food Network celebrity Bobby Flay's "Coffee-Rubbed Filet Mignon with Ancho-Mushroom Sauce."  His wife is actress Stephanie March, a Northwestern graduate.
The cookbook was undertaken by the Northwestern CatBackers as a fundraising initiative.  The recipes are favorites from loyal tailgaters, former student athletes, coaches past and present, university staff, parents, and even intensely loyal fans.  Not only recipes, the book will also take you on a tour of athletic facilities, show photos of former stand-out players, and historical facts relating to each of the nineteen NCAA sports teams.   All the proceeds from the cookbook directly benefit the Wildcat Fund which provides scholarships for future student athletes who will proudly wear a Wildcat uniform. 
Women's basketball coach Joe McKeown gives us his recipe for success:  "I can't cook like my wife, who is tremendous, but my Wildcat soup would include a little dash of point guard, a touch of power forward, and a kitchen full of quickness.  Put it all in a pot, let it simmer for an entire pre-season and freeze it 'til the NCAA Tournament."
If you love college sports, love Northwestern, or just love good recipes, you will also love this great little cookbook.  Since my daughter Kristina graduated with a theatre degree, I think the next Northwestern cookbook should be filled with recipes from all the famous actors who have attended or graduated from Northwestern.  Wouldn't you love to try recipes from Charlton Heston, Warren Beatty, Ann-Margret, Garry Marshall, Meryl Streep's daughter Mamie Gummer, Tom Hank's son Chet, and about a gazillion more.  But until that happens, any recipe you will open up in Willie's Wildcat Cookbook will be enjoyed while cheering on the Cats of every sport throughout the year.