We decided Christmas Eve was the perfect time to make something from Julia's French Chef cookbook and settled on her marvelous beef in red wine.  Julia says that "When beef stew is in the oven, all's right with the world."  How right she is.  The aroma that filled our home on Christmas Eve was intoxicating.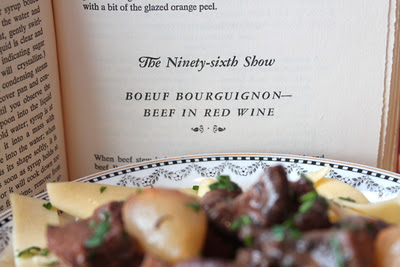 The recipes in The French Chef Cookbook grew out of the television series "The French Chef" back in the 1960's and were designed to cover as much as possible of French cooking in several seasons of weekly half hour programs.  The shows ranged from sauces, stews, appetizers, desserts, cakes, pastries, and meats from the very simple to the fairly complicated.  The book represents 119 of the programs, with the first recipe and show starting with number 14.  Unfortunately, show numbers 1-13 no longer exist.  The tapes literally wore out before duplicates were made.  Several others are missing for other reasons, but thank goodness show number 96 lives on with the Boeuf Bourguignon.  About a third of the recipes from this book were taken from "Mastering the Art of French Cooking," Volumes I and II.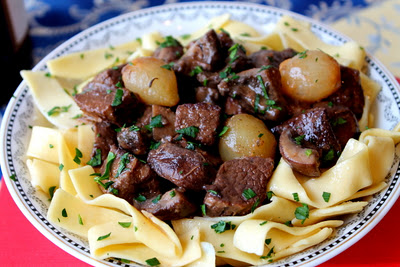 For this recipe, first the bacon and beef are browned and placed in a casserole with red wine to simmer in the oven for several hours.  While the beef cooks, an onion and mushroom garniture is prepared with pearl onions and one pound of mushrooms.  When the beef is done the cooking liquid is poured off and thickened with butter and flour;  the mushrooms and onions are added back to the liquid along with the beef.  It simmers again briefly and then is served with noodles, rice, or boiled potatoes, and sprinkled with fresh parsley.  We did as Julia suggested, serving with French bread (I made two loaves), a tossed salad, and the same red wine used in the cooking. 
In addition to classic recipes such as bouillabaisse, ratatoutille, Coq au Vin,  cassoulet, quenelles, petit fours, and dozens of others, there is an amusing chapter about the adventures of making the television series.   There were incidents such as Julia forgetting to put the cornstarch in her flaming souffle and it collapsed on its way to the dining room, or while making a lobster dish, Julia was shocked by a short circuit in the microphone every time she touched the cooktop, and she kept grabbing her chest.  Some of my favorite cue cards Julia read while cooking said things like, "Wipe your face," Stop gasping," and "Don't gallop!"  Gallop?? 
If you ever find these wonderful shows on a PBS station, be sure and watch.  And now you will know why Julia looks a little flustered making that lobster dish.
Bon Appetit!