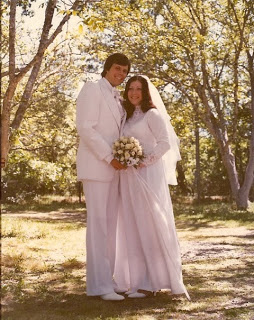 First thing I have to say is Happy 33rd Anniversary to my sweetheart!  Bill and I were married on May 28, 1977 in Marin County, California.  Our marriage produced two of the best daughters any parents could ask for.  We are truly blessed.  I love you, Bill!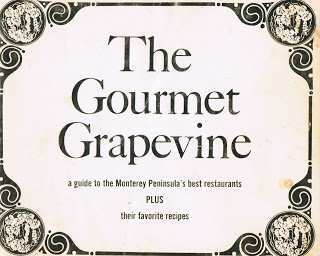 I bought this cookbook on our honeymoon in Carmel and Monterey.  Anyone who has been there knows the area is breathtaking.  We started out in Carmel enjoying the white sandy beaches and story-book shops.  No visit to the Monterey Peninsula would be complete without including a ride along the world famous Seventeen-Mile Drive, which we loved!  You will see showplace homes, an incomparably beautiful coastline, stretching sand dunes, mysterious forests, and the unusual windswept cypress trees.  Couple all this with an abundance of wildlife, both sea and shore, and you will find an area unduplicated anywhere else in the world.  It's also hard to think of Monterey without John Steinbeck, who wrote his famous novels based on the area.  Had it not been for him, Monterey's Old Cannery Row might be only an empty local memory.  The old canneries have become theatres, shops, art galleries, and posh restaurants.
Speaking of restaurants, Bill and I could never decide where to eat because each one seemed better than the next.  They were all so unique, enchanting, and full of charm.  As we walked down the heart of downtown Carmel, Victorian balconies of some restaurants were bedecked with geraniums.  The divide down the middle was a sight in itself with trees and flora in abundance.  Seeing names like Patisserie Boissiere, L'Escargot, The Pine Inn, or La Marmite with its big French copper pot hanging above the kitchen door made selecting a restaurant even more difficult.   So where does my husband want to eat?  Not some cozy little French place, but one called Hog's Breath!  To be fair, it was intriguing.  It was a stable, turned antique shop, turned Inn, serving a health-food oriented menu.  It had a charming courtyard with an old-fashioned fireplace, white picket fence with climbing ivy, along with redwood hand-crafted tables, stained glass, and of course, a tusked boar's head by a cozy bar.  But all of this was not why Bill wanted to go there – it's because it was frequented by Clint Eastwood.  Bill was, and still is, a huge Clint Eastwood fan.  He can quote lines from many of his movies, his favorite being The Outlaw Josie Wales.  (I can't tell you how many times I have seen this movie over the past 33 years).  The menu even offered a Dirty Harry Dinner and Dirty Harry Burger.  And, as many of you may know, Clint Eastwood later became mayor of Carmel and owned the Hog's Breath.
The cookbook is filled with restaurant information and great recipes.  When we returned home from our honeymoon, I made a fabulous spaghetti sauce recipe from  a place in Monterey called the Warehouse.  Other recipes from both Carmel and Monterey include Crab Sargonne, Squid Abalonetti, Drums of Heaven (special chicken wings) and Cream of Artichoke Soup.  But in the end, I had to make something from the Hog's Breath, and the recipe in the cookbook is for their delicious house salad dressing, which follows.  Clint would say "Make my Day" and prepare his great salad dressing!   
Hog's Breath Salad Dressing
1-1/4 teaspoons salt
1-1/4 teaspoons MSG
pinch sugar
1/8 teaspoon tarragon
1/8 teaspoon English dry mustard
1/4 teaspoon freshly ground black pepper
2 Tablespoons red wine
1-1/4 teaspoons water
1-1/2 Tablespoons white vinegar
1-1/2 Tablespoons red wine vinegar
1/4 teaspoon Worcestershire sauce
1/4 of a medium onion
1 clove garlic
Approximately 1 cup oil
Place all ingredients except oil in a blender; blend for a few seconds.  Slowly add 1/2 cup oil through the top while blender is running.  Taste after the 1/2 cup has been incorporated.  Add additional oil to individual taste.