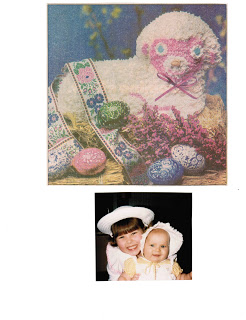 Happy Easter everyone, and especially to my two precious daughters! This photo was taken on Easter, 1985. When the girls were little, I always made a lamb cake for them. Actually, they still like the lamb cake, and they're not so little anymore! Here is the recipe I always used:
Easter Lamb Cake
1 package (1 pound) poundcake mix
2 eggs
2 Tablespoons grated orange peel
Frosting:
1 cup plus 2 Tablespoons solid vegetable shortening
1/4 cup plus 2 Tablespoons butter, softened
1-1/2 packages (1 lb.size) confectioner's sugar
1/4 cup plus 2 Tablespoons milk
1/4 teaspoon salt
1 teaspoon vanilla extract
Red, yellow, and blue food colors
1. Preheat oven to 325 degrees. Prepare poundcake mix as package directs. Stir in orange peel.
2. Generously grease and flour lamb mold. Place mold bottom on a cookie sheet. Fill with cake batter, then cover with mold top (the face of the lamb). Bake for 45-50 minutes. Lamb molds have a little hole in the top part where you can stick in a skewer to see if the cake is done.
3. Let the cake cool in the mold for 10 minutes. Remove cake gently and cool completely on a wire rack.
4. For frosting: In large bowl of electric mixer, beat shortening and butter until light and fluffy. Add confectioner's sugar, milk, salt, and vanilla; beat at low speed until combined, then at high speed until well blended.
5. Place lamb upright on cake stand. (I put a small amount of frosting on the bottom to help the lamb stick to the plate). Tint a small amount of frosting pink for the face, blue for the eyes, and a little yellow for the nose.
Using pastry bags, or just spreading carefully with a knife, make a face as shown in the photo. Pipe white frosting all over for the body. When the cake is done and has had time to set, I tie a ribbon around the neck. I also tint some coconut green for grass to scatter around the lamb, and then placed jelly beans on the coconut. Kids love to help make and decorate this cake. Let them have fun! Just remember, everyone wants the head!
Also, check out my blog on Sunday for a great egg salad to use up all those decorated hard-boiled eggs!