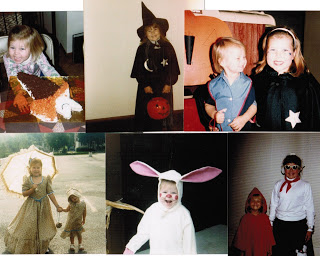 Happy Halloween to my sweet readers!!
I hope everyone has a safe and happy Halloween.  These are some photos of my girls when they were young.  All the costumes were made by my talented Mom, who can sew anything.  I have all these costumes, and many more, packed away for future grandchildren!  I have to say the bunny costume is one of my all-time favorites. 
Don't eat too much candy!  Remember that many types of leftover candy can be chopped up and put into cookie dough in place of chocolate chips.  For all you baby boomers, do you remember when it was safe to give out homemade caramel or candied apples?  And when neighborhood moms baked homemade cookies with pumpkin cookie cutters or made popcorn balls and wrapped them up with cellophane and ribbons?  Those days are long gone, but I'm glad I have those memories.
A big Happy Birthday goes out to my sister-in-law, Karen!  Happy Birthday, Karen, and have a great time with the grandkids!