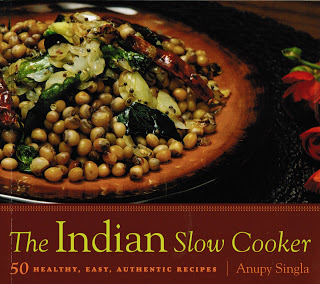 I might not ever have known about this amazing cookbook, if not for one of my loyal readers, Barbara,  from Italy.  Barbara writes her own food blog and also likes to enter drawings for cookbooks.   When Barbara won this cookbook, she was told it could not be mailed all the way to Italy, so she asked if the book could be mailed instead to her fellow blogger, Debbie, at The Culinary Cellar.   This is a lovely woman whom I have never met, yet she sends me cookbooks!  How lucky am I?!
I hit the jackpot receiving this book.  With the thousands of cookbooks in my collection, I do not have one single book on making Indian food in a slow cooker.  What a genius idea!  I was so excited about it that the same day I received it, I just had to make something immediately.  I searched my pantry to see what I had on hand without having to go to the store, and I found the ingredients needed to make the "Whole Green Lentil and Brown Rice Porridge."  It was fabulous!  The cookbook is now filled with post-it notes for the next recipes I can't wait to try.  I also emailed the publisher and told him how much I instantly loved this cookbook and asked him for a copy for me to give away on my blog.  He graciously sent it immediately, and now one of you lucky readers will be getting a copy of your own.  Read how at the end of this blog.
The author, Anupy Singla, has written recipes prepared in healthy versions that use far less oil and saturated fat than traditional recipes.  She discovered how to use the slow cooker's means of keeping food moist through its long, slow cooking cycle.  Singla introduces the mainstay spices of an Indian kitchen, and how to prepare and store them.  For those who already love Indian food, or those who are interested in learning to explore it, this book is an invaluable guide.  Some of the recipes include Dal (of every variety), Palak Peneer, Gobi Aloo, Paitha (spicy pumpkin), Lamb Biryani, Butter Chicken, Curries, Keema, Nihari, and Punjabi Khardi.  Singla also writes a blog at http://www.indianasapplepie.com/  
The timing of the cookbook's publication is perfect for Diwali, the Indian New Year celebration that takes place in late October and early November.  Diwali is the annual Hindu festival of lights, and is as important to Hindus as Christmas is to Christians.  Leading up to the festival, dozens of special dishes are prepared, houses are cleaned, candles lit, and firecrackers set off.  Homes are lit with lamps and candles, and it is said that homes which glow the brightest will be the ones to best attract the attention and blessings of Goddess Lakshimi, who symbolizes the earth, wealth, prosperity, and abundance.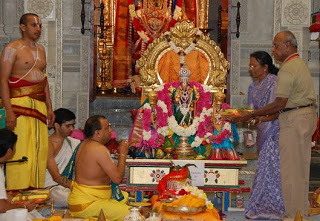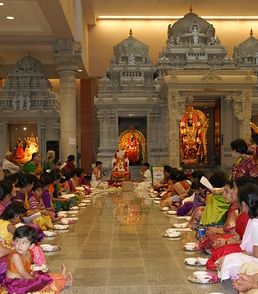 If you would like to enter the random drawing for this amazing cookbook, send me your name and email address by midnight CST Friday, November 5th to [email protected]  and I will email you if your name is drawn.  Good luck!!
Congratulations to Leah L. from New York who won last week's drawing for the two coffee cookbooks!