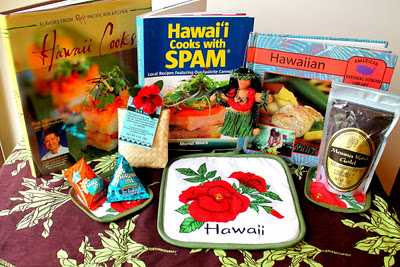 My daughter Kristina recently enjoyed her first trip to Hawaii.  Lucky for me, she bought enough gifts to fill a Christmas stocking, which is exactly what she did.  It was like the Hawaiian Islands followed her home.  I couldn't even fit everything in the photo, but there was a beautiful robe, which I used to cover the table with all the gifts; potholders, hot pads, and dish towels; Kona coffee; dozens of packages of macadamia nuts in every possible flavor, chocolate-covered macadamias; a hula girl  Christmas tree ornament; special sea salt; and of course, cookbooks.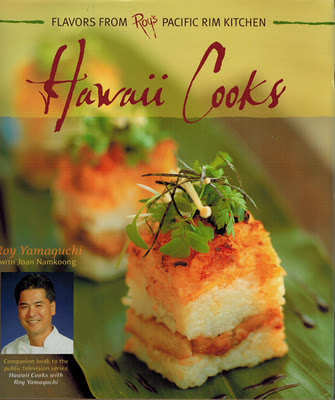 This first one is the companion book to the PBS series, Hawaii Cooks with Ray Yamaguchi.  The chef combines his local ingredients of Hawaii with French cooking techniques, such as crab and taro cakes with a bearnaise sauce.  His palate and cooking are also influenced by the memories of food he ate as a child in Hawaii and Japan, and his culinary training in Europe.
Before Chef Yamaguchi offers his recipes, the first part of the book is dedicated to flavors, explaining each, such as salty, sweet, sour, tart, bitter, spicy, and even "oceany," like the saltiness and briny flavor of caviar.  Core ingredients used in his cooking include seafood, vegetables, tofu, meats, and starches.  After learning the basics, it is then you can dive into the recipes:  Shrimp on a Sugar Cane with Pineapple-Mango Jam; Crab with Vanilla Sauce; "MediterAsian" Saffron Chicken; Mahimahi with Citrus Sauce, Apple Bananas, and Macadamia Nuts; Coconut Panna Cotta; and Minted Mango Martini Float with Crystallized Ginger.  You get the picture-  Hawaii is on the list for your next vacation!  This is a beautiful cookbook.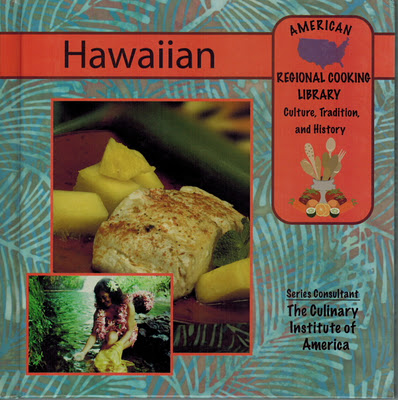 If you are interested in not just the cooking but history and culture of food, you will love this book.  For example, did you know that macadamia nuts are not native to Hawaii, but to Australia?  A man named William Purvis introduced the macadamia to Hawaii in 1882.  Today, Hawaii is the largest grower of macadamia nuts in the world, producing 90% of the annual supply.  The Hawaiian state fish is  the "humuhumunukunukuapua'a?"  Try ordering that from your fishmonger!  Hawaiian salt is different from table salt in both taste and appearance.  This special salt was one of the first commodities traded to foreigners during the beginning of the nineteenth century.  Notice my Hawaiian sea salt in the gift photo – it's in the little woven bag with a red flower on it.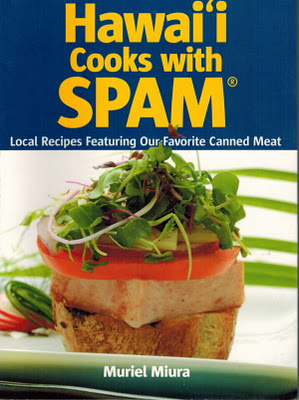 This book threw me for a loop.  I had no idea that Hawaiians were obsessed with of all things- Spam!  Hawaii consumes more than six million cans per year, or six cans per person per year – the most in the United States!  Hawaiians are passionate about their Spam, creatively combining it into just about everything, including sushi.  You will literally find every way possible to prepare Spam in this book.  I had no idea there were so many flavors, like Spam with cheese, bacon, garlic, black pepper, hot and spicy, and hickory smoked.  I remember Spam from my childhood.  I didn't like it then, and I don't like it now.  I still remember that little key you pulled off to open it, and then it made a squishy, icky sound when it came out of the can, covered in some gelatinous goo.  My memories are not good.  Sorry Hawaii…  I'll stick with Chef Roy's recipes!  But if you love Spam, you will find this cookbook endlessly fascinating with interesting recipes.
Aloha!  (which means more than hello or good-bye; it means "the presence of divine breath."  …but not if you just ate SPAM!)