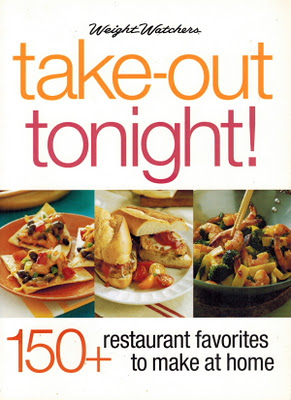 Many people are making their New Year's resolution to start a weight loss program.  It's probably the number one resolution each and every year.  I'm sure there are statistics somewhere that will tell us how long this particular resolution lasts.  I have read that gym memberships have a resurgence every January but it bottoms out by the end of February.  Everyone wants to look and feel better, but sometimes life gets too hectic and many resort back to a fast food habit because it easy and ready to eat at any given moment. 
We all know that fast food can be high in calories, fat, and sodium.  It seems like every day there is a new article in newspapers, magazines, and the internet about the health dangers of some fast foods.  But all is not lost if you find this amazing cookbook.  It's from Weight Watchers, so you know it will not only be good, but all the nutritional information is figured out for you.  There are over 150 recipes of fast food favorites made healthy. 
Starting with the deli chapter, there are recipes for jumbo bran muffins, reuben sandwiches, roast beef sandwiches, pasta salads, and chicken wraps.  The Chinese take-out chapter has some of my favorites like wonton soup, potstickers, cold sesame noodles, Hunan shrimp, Kung Pao shrimp, fried rice, chow mein, moo goo gai pan, General Tso's chicken, Chinese barbecued pork,  Mu Shu pork, sweet-and-sour pork, and beef with broccoli.  For Greek offerings, try the avgolemono soup, hummus, tzatziki, spanakopita, pastitsio, lamb souvlaki, dolmades, and phyllo ideas.  If Mexican food is a favorite, you will love the lower fat and calorie versions of quesadillas, empanadas, tortilla soup, burritos, tacos, enchiladas, chimichangas, nachos, taco salad, and tostadas.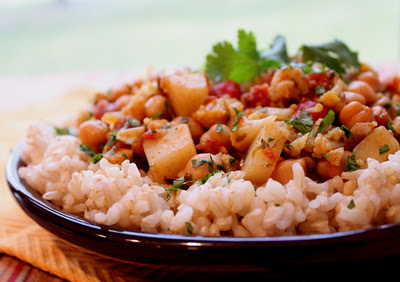 I was in the mood for some Indian food and tried the chickpea and cauliflower stew, above. (I'm having fun playing with my new camera!)  The dish was wonderful.  I like a lot of spice, so I used tomatoes with hot green chiles instead of the plain crushed tomatoes called for in the recipe, and added more curry powder.  I would definitely make this again.  Some other Indian recipes are for Keema samosas, Tandoori chicken, shrimp vindaloo, saag aloo, cucumber raita, and chapati. 
One of my favorite chapters is Italian, which includes antipasto, bruschetta, focaccia, several kinds of pizza, calzone and panini, lasagne, spaghetti and meatballs, pestos, sauces, minestrone, and cannoli.   There are chapters on sushi and Thai foods, too. 
With this book you will be able to still enjoy your favorite fast foods without all the fat and calories, not to mention they will taste superior.  Keep those resolutions!