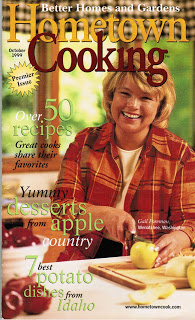 In an earlier blog
, I wrote about a now defunct magazine called
Sphere,
that I still miss.  Here is another one I miss.  This is the premiere issue, October, 1999, of Better Homes and Gardens'
Hometown Cooking
, presented as "a new magazine chock-full of favorite recipes from the best cooks in America."  It was aimed at readers "who care as much about family and community values as you do about good food."  What's not to like?  The cover photo shows a very fresh and sweet-faced mom making something with apples.  Not only that, she was a "real" person, not a paid model.  This was a very all-American, down home comfort food cooking publication.  The editor chatted with cooks across the country and heard over and over how everyone loved community cookbooks and the stories of the cooks behind the recipes.  Was it a cherished family recipe handed down from generations, or a new recipe that just won a contest?  I can only imagine how much fun the editor had traveling around the country peeking into the recipe boxes of prize-winning cooks. 
The first recipe to be featured was the $25,000 Grand Prize winning recipe from the National Chicken Cooking Contest.  The winner was a retired secretary who developed a recipe called "Japanese Amazu Chicken," her home-cooked version of an entree she and her husband enjoyed at a Canadian restaurant.  We turn the page to find a walnut-pear sour cream cake and a blueberry breakfast braid.  The cover mom reappears with everything featuring apples-  apple-curry soup, apple cake with caramel frosting, apple dumplings, apple-cheese bars, and apple bread.  Since it was an October issue, there is sweet potato pie, angel biscuits, apricot-pumpkin bread, and other fall fare.  Every issue was packed with recipes following the seasons and holidays.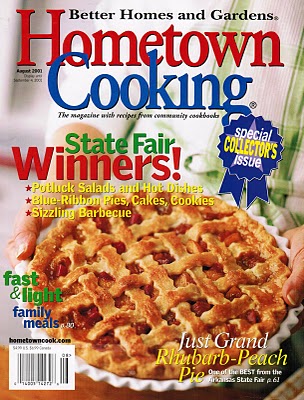 Fast forward to August, 2001.  The magazine is still going strong, but it became a larger-sized publication.  This issue was called a "special collector's issue" because it was filled with winning recipes from state fairs.  It took me a second, until I realized it was the last issue before 9-11.  If there was ever a time for comfort food, it was after the tragedy.  We all need comfort food during the course of our lives, and there are still numerous cookbooks and magazines filled with them.  But to me, this magazine was the ultimate comfort magazine.  I'm glad I saved all the issues in my little culinary cellar.