On this Veteran's Day, I would like to pay tribute to all of our Veteran's,  but today, a special tribute to our family friend Bill Madole who served honorably in World War II.  Bill has been a family friend for decades, watching our girls grow up, and is the kindest, sweetest man anyone could ever know.  He and his  lovely wife, Myrle, are near and dear to our hearts. 
Back in February of last year, Bill and his brother Jim applied to the "Honor Flight" program.  The program was founded in 2008 to help send Chicago area World War II veterans to Washington, D.C., for a day of honor and recognition and to view the WWII monument.  This photograph was taken of Bill and Jim before they were shipped off for service, and now they want to add a new photo of them together in front of the memorial.  To Bill, the excitement of it is to be able to see it with his brother.  Another brother, Tom, had also applied to go to Washington with Bill and Jim, but tragically, Tom died in a car accident last fall.  Bill said the trip will be very tough without Tom.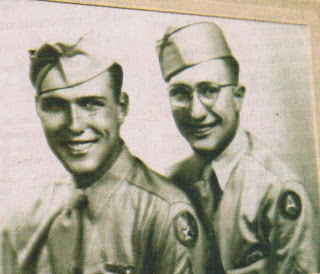 Bill says that his days in the army were some of the best times of his life.  He had just completed training as an aerial gunner for the Army Air Corps when Japan surrendered to the United States.  Bill said the army instilled in him important values such as waking up early and learning to be a gentleman. 
Our nation is losing thousands of veterans a day, and  the program hopes that many will apply for the Honor Flight.   The program flies 85-95 veterans to the capitol every three weeks from April to October.  Bill and Jim flew this past summer.  Bill returned with life-changing memories and a scrapbook full of photos, which we were lucky enough to see when Bill returned.  His family arranged a day for friends and family to stop by the Madole home to talk to Bill about his experience and see his incredible photos, and to also celebrate Bill and Myrle's 65th wedding anniversary. 
We are so honored to know you, Bill, and are happy that you are a part of our lives.