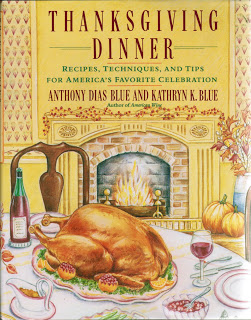 There is no shortage of ideas for Thanksgiving dinner.  It is the feast near and dear to us all where families and friends assemble to enjoy each other, with maybe a parade or football game thrown into the mix.   Growing up, Thanksgiving at our home was always filled with lots of people and the great food prepared by my mom and grandmother.  I remember one time when we had so many people and not enough tables, that we had to use our ping pong table to seat more guests. 
It's wonderful to have traditional dishes, but sometimes it's fun to try some new ideas along with the family favorites.  Even if you decide not to serve turkey, there are some alternatives in this cookbook that may sound good to you,  like roast duck stuffed with couscous; stuffed cornish game hens with a wine gravy; or goose with a port and currant jelly sauce.   For a different use of pumpkin, try a pumpkin parfait, pumpkin flan, or a pumpkin cheesecake.  We were given an ice cream maker as a gift from some good friends this summer, and I want to try making cinnamon ice cream to serve with apple pie or gingerbread.
Thanksgiving is not like a potluck dinner; it takes organization and planning, especially for large crowds.  This cookbook will help with menu selection, shopping lists, decorations, and other things that need to be scheduled.  Try to avoid as many surprises as possible by planning ahead, and you will find out how easy it can be to have a less stressful day.  You want to be able to enjoy your guests and not worry that something is left out or forgotten.  Get as much done ahead of time that you can.   But above all, enjoy your loved ones at this special time of year.