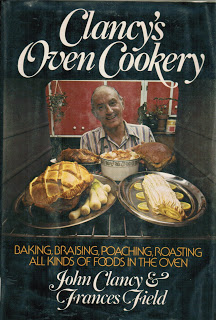 Ladies and Gentlemen, start your ovens.  John Clancy, master chef, master baker, superb teacher, and former protege of James Beard, wants you to make your ordinary oven the most versatile "gadget" you own.  The recipes span every food category and cover methods of baking, braising, poaching, and roasting in your oven.  What better way to warm up the house this winter than having the oven turned on with a wonderful meal waiting for you. 
Mr. Clancy does not have to do much to convince me to use the oven more often.  I use mine daily for something or another, and  I admit to being hard on my poor oven for using it so much.  We have gone through more ovens than any other appliance.  My dream kitchen would have an industrial-sized stove along with a few smaller ones.  And with the way I use my oven, I could never have one that wasn't self-cleaning. 
Food that is cooking away in the oven leaves your top of the stove burners available to use, which means you can be doing several things at once.  Bake some bread as the soup is simmering.  Prepare rice or mashed potatoes as the chicken is roasting.  Make a sauce for the fish while it is oven-poaching. 
Since many people engage in baking of all kinds for the holidays, I wanted to see what was in the book.  The first recipe that caught my eye was the blueberry dumpling pie.  Just the title is intriguing.  It is a three-crusted pie with the middle layer of pastry cooking just like a dumpling, with the contrast of a crispy top crust, and a filling of luscious berries with red currant jelly and spices.  The orange-buttercream layer cake has orange rind in the batter, and when baked and cooled, is saturated with an orange liqueur-flavored syrup, and frosted with a French buttercream further heightened with orange.  The recipe for cheesecake is apparently so incredible, it will be the only one you will ever want to use. 
The cocktail turnovers for holiday entertaining include a mushroom-onion filling with thyme, a delectable blue and cream cheese filling, and an interesting filling called "Coney Island" with chopped frankfurters, bacon, mustard, fresh dill, and sauerkraut!  There are many fish recipes for the oven which is great since I hear from many of my friends that they always seem to either overcook or undercook fish with other methods.  In the oven, fish turns out perfectly.  There is a baked scallop recipe with crispy breadcrumbs that I will be trying soon.
Grab up any book you find by John Clancy.  He has written so many wonderful cookbooks.  I wish I had them all.  When you read any of his books, you will find that his talent in the kitchen is only matched by his enthusiasm to teach us.