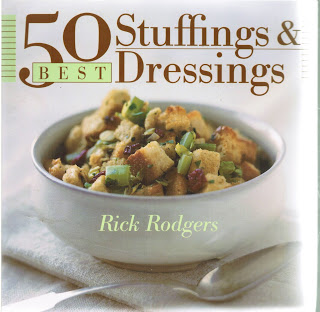 Most people in the South call it "dressing," while we Northerners call it "stuffing."  Some will say if it is cooked inside of the turkey it is stuffing, outside the bird in a dish, it is dressing.  Whatever you call or however you cook it, it's all good!  To many people, the stuffing/dressing is one of the best parts of Thanksgiving.  I grew up with the stuffing inside the bird, and it was always moist and wonderful.  I changed my mind over the years, and now I prefer the dressing cooked separately.  While it is very moist cooked inside the bird, it does not get that crunchy top like it does when baked.
Here we are with another Rick Rodgers book, right after I talked about his Thanksgiving 101 last week.  As mentioned in that blog, Rick taught many cooking classes just on Thanksgiving, so he had to write one about stuffing.  What a great little book this is!  It begins with time-saving tips, safety tips, ingredients, and seasonings, and continues onto the fifty best recipes for every kind of stuffing-  bread, cornbread, rice and grain,  fruit and vegetable stuffings, and stuffings with meat.  I can't imagine a better cookbook to find on stuffings than this one.  It doesn't have to be Thanksgiving to serve stuffing.  Some of the recipes in the meat chapter sound like a meal by themselves.  The Caribbean beef and rice stuffing can be used to fill zucchini and served as a main dish or side dish.  The chorizo and chile stuffing could be served as a side dish to pork chops.  Or how about a kielbasa, sauerkraut, and apple stuffing for a roast goose? One that sounds so interesting is an antipasto stuffing using salami and provolone cheese.  Two boxes of crushed Italian-seasoned croutons are coarsely crushed and mixed with diced salami, kalamata olives, roasted red peppers, and provolone cheese, beaten eggs, and broth.  Reading that one reminded me of a dressing I made several years ago.  For the bread base, I made a flavorful prosciutto-asiago bread, then cubed it.  I cooked Italian sausage and added fresh basil, garlic, Parmesan, toasted pine nuts, and olives, then stirred in some eggs and turkey broth, added the cubed bread and baked it as a dressing.  It was heavenly!
Whether you are a stuffing or a dressing, you will love this cookbook for innovations and inspirations!