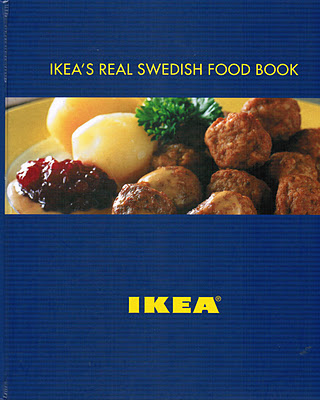 How many home furnishing stores offer Swedish meatballs to buy on the way out after purchasing a new lamp or bedroom dresser?  I can only think of one such store – Ikea.  How many sell cookbooks?  I think Ikea has the market on that, too.  Ikea stores have an entire cafeteria of Swedish food to enjoy.  The meatballs are served with mashed potatoes and lingonberries – for $2.99!  Or how about salmon with lime marinated vegetables, or an herb-crusted fish served with mashed potatoes and carrots, all under $5.00.  Be sure to eat before you shop, because if you buy items totaling $100, show them your receipt and the food is free.  Such a deal. 
The cookbook has recipes for Swedish classics including salmon with dill and lemon; potato pancakes; pea soup; and of course the meatballs served with lingonberries.  I have always wondered why lingonberries have not hit it big in the USA.  They have more antioxidants than blueberries along with other health benefits, plus they are the most gorgeous red you will ever see, and the taste is out of this world.  After Dr. Oz talked about lingonberries on a recent show, they flew off the shelves in my area.  Now everyone wants them.  Next it will be the cloudberries, which are almost impossible to find- except at Ikea.
Here is a old family recipe for Swedish pancakes from my mother-in-law who was half Swedish.  Now, if I give you this recipe, which have to make exactly as written with no substitutions, you have to promise not to try them until you find some lingonberry jam, because they are not the same without it.  At all.  Promise?
Mother Vanni's Swedish Pancakes
3 egg yolks, lightly beaten
1/3 cup sugar
1-1/2 cups milk (whole or 2%)
1 cup all purpose flour
1/8 teaspoon salt
3 egg whites, beaten stiff
In a large mixing bowl, whisk together the egg yolks and sugar until thick and lemon-colored.  Add milk alternately with the flour and salt.  Fold in beaten egg whites just until blended. 
Using a 1/3 measuring cup, scoop up batter and drop onto a hot, lightly greased griddle pan.  You want the pancakes small – do not make large sizes.  Pancakes will cook rather quickly as they are light and fluffy.  Flip pancakes when they are a beautiful golden color and cook the other side. 
Place pancakes on individual serving dishes, dust with powdered sugar, and serve with a big dollop of lingonberry jam – no syrup!  The pancakes are light as air and will melt in your mouth.