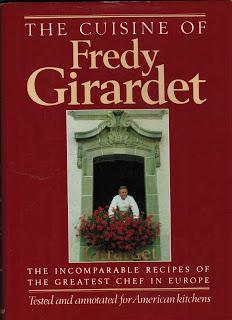 Fredy Girardet has been called the greatest chef in Europe and one of the greatest chefs  in the 20th century.  This amazing cookbook was translated into English by Chef Judith Hill and her husband Michael, who together tested every recipe using American products and measurements.  The Hills came to the conclusion that Fredy Girardet is a genius.  The authors say that any moderately experienced cook can make these dishes, yet will know they are extraordinary the moment they are tasted.  Every recipe is explicit in its directions and will guide you from the first chopping of an onion to the final whisking of a sauce. 
Chef Girardet, "the Pope of Swiss cuisine," is known primarily for his novelle cuisine style.  He avoids using flour in his sauces, and instead thickens with simmered meat stocks.  For example, he says to save all the juices from a roast beef; the juices will keep nearly a week in the refrigerator.  In a few days, when you may want to cook a small steak and make a sauce, reduce a little red wine with some chopped shallot, add a spoonful of the beef juices you saved and refrigerated, and swirl in a touch of butter.  This is novelle cuisine, if you will, but it is in fact cooking with authenticity.  It is not complicated, but takes practice to learn the gift of handling ingredients, of which the chef claims one can learn, along with some intuition. 
It was said that if Chef Girardet had to be absent from his Swiss restaurant kitchen for any reason, it would close down for the day.  This was perhaps a slight exaggeration, but not much of one.  He was not a "celebrity" chef as we know them – he was a "chef's chef" and a "diner's chef."  His restaurant was the greatest pleasure of his life, serving presidents and average people alike, and he wanted to please them all. 
Once you start preparing dishes from this book,  you too will have a following of admirers.  From a simple onion tart as an appetizer (to die for, by the way – and very easy), to caramel ice cream with praline, you will not feel the least intimidated, as the directions are explicit and easy to follow.  I think he would love that we are cooking from his book and enjoying it, rather than trying to learn the latest craze of molecular cuisine, of which he is a critic.  Chef Girardet has said it is like turning a kitchen into a laboratory, and he doesn't like the use of synthetic products, additives, colorings, and flavor enhancers.  He believes in using few of the very best fresh ingredients with the perfect marriage of food and flavor, and insists that "we need to finish with these mish-mashed, sweet-tasting avant-garde dishes… where nothing is identifiable, neither texture, nor freshness, nor the original taste of the product." 
Chef Girardet retired at the age of sixty, but seems to have some regret of doing so.  From what I have read, he misses his restaurant and even has said he would love to work on a project here in America, maybe a culinary school on the highest level.  We should only be so lucky.  But with his vocal objection to molecular cuisine, it is probably a safe bet to say that some of the Top Chef contestants would not like him to be a judge!  But it would certainly make for an interesting show.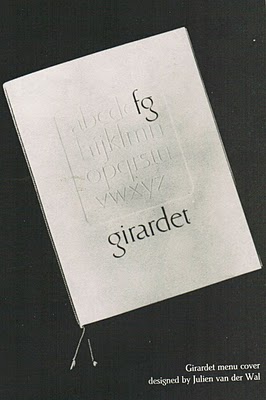 Menu cover from the restaurant.