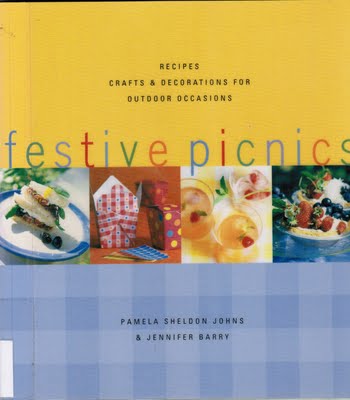 Even with the price of gas, people still like to take road trips on Memorial Day or head to the beach for a picnic.  This great little book is filled with ideas for picnic food and decorations.  Whether you are sitting by a campfire, tailgating at a sports event, listening to a concert, hiking, laying on the beach, or just throwing a blanket in your backyard with the kids, you will find an idea in this book. 
Picnics can be formal with fine china to a casual impromptu spread of bread, cheese, and a bottle of wine.  You can transport food in a basket, box, bag, lunchbox, or anything that will fit what you are eating.  Bring chopsticks along for Asian menus, candles for a romantic picnic, or collect wildflowers and decorate your blanket.  Be aware of food safety and serve hot foods hot and cold foods cold, by using thermos's or ice chests.  Wrap a container of hot food in a towel to help keep it warm, then the towel can be used for any clean-up you may need.  Bring along trash bags so it will be easier to rid of any paper goods or leftovers with ease.   And don't forget the bug spray for the little pests, and an umbrella just in case of a sudden storm. 
The book has all kinds of suggestions of various picnic celebrations, such as Fourth of July, a Mexican fiesta, Mother's Day picnic, a beach party, a bike/hike picnic, and outdoor picnic for a concert, or a Father's Day cook-out.  There are suggestions to make your picnic more festive, such as the shovels inserted into the napkins for the kids.  They will not only enjoy the picnic, but will have a special toy to play with, too.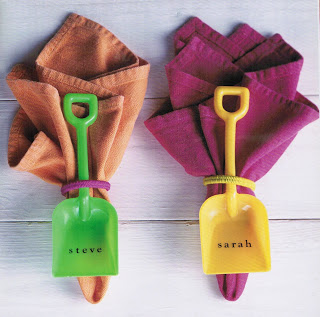 Have a safe Memorial Day weekend, and please remember all of our brave soldiers, past and present, and all of those who work so hard to keep our country free from harm.