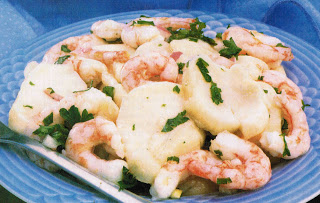 Here is an easy seviche to make for a picnic this weekend.  Looks pretty and tastes wonderful!
Easy Seviche
1 pound sea scallops, halved or quartered, depending on size
1 cup fresh lime juice
1 pound peeled cooked small shrimp
1/3 cup finely chopped red onion
1/4 cup chopped flat leaf parsley
1 small chili pepper, finely chopped
1 teaspoon freshly ground black pepper
1/2 teaspoon dried oregano
6 cherry tomatoes, quartered (optional)
1/4 cup olive oil
Place sliced scallops into a bowl and pour on lime juice.  Marinate, covered, at room temperature, stirring occasionally, for 3 hours or until scallops are opaque and no longer translucent.  Drain scallops, discarding juice.  Add remaining ingredients and toss well.  Cover and refrigerate for 1 hour before serving.  Serves 6.