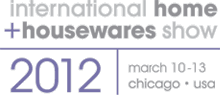 My daughter Kristina and I will  be attending the incredible
International Home and Housewares Show
at McCormick Place in Chicago for the next four days.  We have been attending every year for the past four years and never want to miss it. There are 2,000 suppliers from over 35 countries. Along with other items, it is definitely a culinary paradise! 
The show has many areas of interest divided into five parts:
-Our favorite one is called "Dine and Design."  There are miles of cookware, tabletop design, gourmet food items, home decor products, and the one I head to immediately – the cooking area where we will see demos from Paula Deen, Ming Tsai, Michael Symon, Cat Cora, Gale Gand, Curtis Stone, Todd English, Duff Goldman, Fabio Viviani, and many more.  They all have book signings after their cooking demos.  But the best part is, since we attend as media, we are allowed to have one-on-one meetings with some of the chefs, which will be loads of fun. 
-The second area is called "Discover Design," which showcases tableware, flatware, cutlery, and more.
-Next is the area of "Wired and Well," which features appliances, health care products, energy conservation, and more.
-"Clean, Contain, and Sustain" has products for bath, cleaning, organization, seasonal products and more.
-The last one is called "Global" which has just about everything in the international pavilions.
Through next Tuesday, we will be reporting from the Housewares floor, informing you of who and what we are seeing daily, along with photos, and hopefully recipes from the chefs.  Come back every day to see what we are doing! (Some nighttime events include dinner at "The Girl and The Goat" and a party with Curtis Stone!)
If there is something particular in the culinary world you are interested in or want to read about on the blog, please write and let me know and we will look for it.  The show has everything new under the sun for the kitchen.