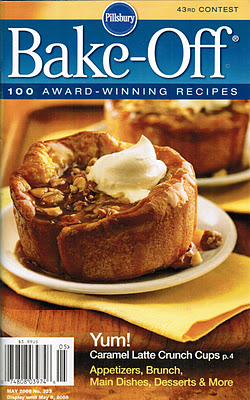 Carolyn Gurtz, million dollar winner of the 43rd Pillsbury Bake-Off contest, wasn't expecting her "Double-Delight Peanut Butter Cookies" to be the one selected for competition.  She was sure it would be one of her other entries using peanut butter, which was peanut butter pancakes with a strawberry jam sauce (which sounds fabulous!).  "I've been entering for almost 15 years," Carolyn told Today's Lester Holt during an interview.  "This was my lucky year."  Carolyn fulfilled a lifelong dream to reach the Bake-Off finals, and literally cried from joy upon learning she had been selected.  "It's like winning the gold medal," she said.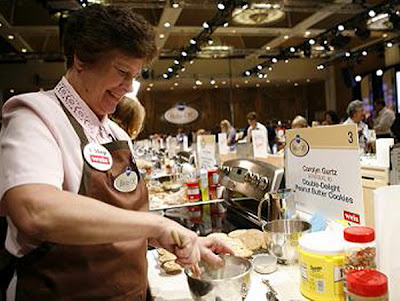 Carolyn began cooking at age seven with a passion for baking inspired by her parents.  She still has the mixer her mother bought her more than twenty years ago.  Also inspired by her education background, Carolyn said it comes into play when developing a recipe.  "You have to keep in mind you're writing for beginner and advanced bakers, so you have to create something that's not too difficult to read, yet is all encompassing.  It's like constructing a lesson plan, really."  Her plan worked, because the judges agreed her recipe's "approachability allowed the home cook to take a convenience product and turn it into an unexpected cookie that bursts with layers of peanut butter flavor."  Carolyn agreed the secret is the creamy center.  "When you taste it, it's like, wow, this is a surprise!"  It was also a surprise to Carolyn when she was announced as the winner.  "I was shocked," she said, "I thought my cookie was good, but I saw so many great entries that were more colorful or more complex than mine that I really had no clue I would win."  Not only did Carolyn win the million dollar prize and a complete set of GE Profile kitchen appliances valued at $10,000, she also won the "Jif Peanut Butter Award," which recognized the best recipe using at least 1/4 cup of Jif peanut butter.  The prize was an additional $5,000.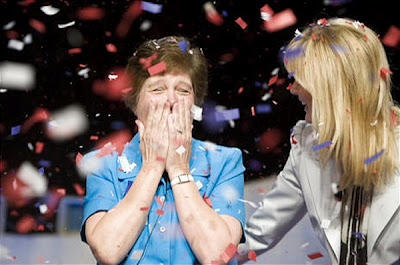 The happy winner with host Sandra Lee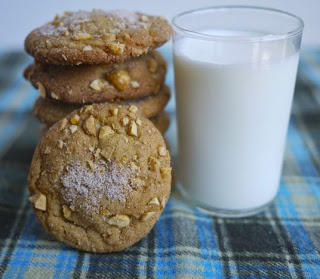 Carolyn's fabulous winning cookies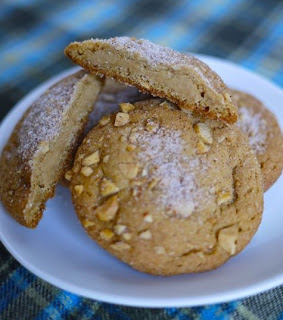 Another fabulous recipe in this contest, is the one pictured on the cover, "Caramel Latte Crunch Cups," by Linda Bibbo of Chagrin Falls, Ohio.  As the cover exclaims – "Yum!" Linda's ooey gooey biscuit cups are filled with cream cheese, coffee liqueur, caramel ice cream topping, butter toffee peanuts.  Yum, is right.  This was Linda's second contest and I am thrilled to for you read her first-hand experience:
My mom was the main influence behind the fact that I even came to enter a recipe in the Pillsbury Bake-Off. I know that she had entered recipes into the contest many times over the years – she was the happiest when when she was cooking or baking something, or trying new recipes. The ironic twist is that she passed away in February of 2007 and was not there to share the excitement when I got the call from Pillsbury that fall informing me that I was a finalist in the 2008 Bake-Off. I like to think that she was there in spirit, cheering me on!
The actual Bake-Off was somewhat of a dream to me. It was such a shock when they called me and I think I still didn't believe it was real until it was all over! Suddenly my mind was stuck on everything Bake-Off with the words – Caramel Latte Crunch Cups – popping out of my mouth with any encouragement from anyone! Here I was, suddenly doing TV demos, and seeing articles about me in our local newspapers. Then, when the 100 Finalist's Recipes cookbook came out right before the Bake-Off I was even more excited to see that Pillsbury had chosen my recipe to grace the cover! Now, that was both a blessing and a curse – a blessing because I will always have that honor of being "the 43rd Pillsbury Bake-Off cover recipe" and a curse because suddenly everyone was informing me that a cover recipe had never won the Bake-Off!
I don't think I slept starting from the night before we left for Dallas until the day I arrived back home, which may have contributed to my "dream like" state! From the moment we (my husband, Danny and I) arrived, it was a whirlwind of things to do – orientation, appliance demos, the Welcome dinner, and getting to meet and chat with the other finalists, especially Cindy Bowser, Pam Shank, Norita Soltz and Teri Ralston – all of whom I got to know through numerous emails sent back and forth right up to the Bake-Off.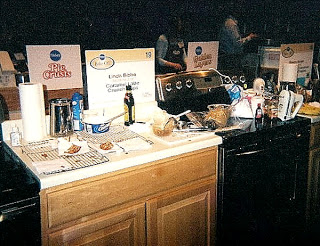 Linda's cooking station
The actual Bake-Off was so exciting, starting with the Grand March. The Food Network channel was there in full force along with all the other many media people that Pillsbury invited, making the atmosphere almost electric with excitement! Having cameras pointed at you from every angle, with questions and comments coming at you right and left was a new thing to me. It was a bit daunting at first, but as everyone was so nice, it became more fun by the minute! Working in such a small space and not having the use of running water – something you don't know how much you miss until you don't have it – was definitely a challenge. I have to admit I was a bit embarrassed with the messy state of my station when it was all over, but with powdered sugar, butter and caramel sauce, what can I say? It was also so exciting to meet and actually talk to Sandra Lee – what a perfect person to be chosen by Pillsbury to host Bake-Off! She was kind enough to walk the Bake-Off floor and chat with many of the finalists. After the Bake-Off, I was exhausted (again, maybe a bit due to lack of sleep?) That night it was a bus ride to a local barbecue restaurant where everyone ate and line danced in celebration of a bake-off well done!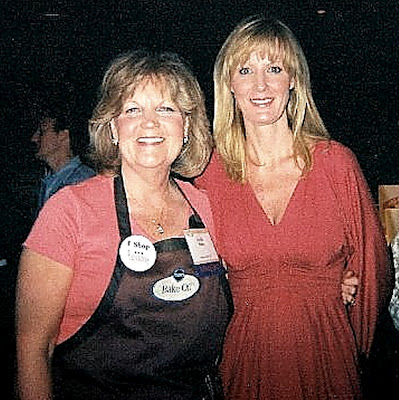 Linda with host Sandra Lee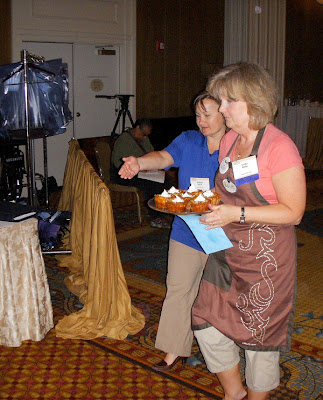 Linda and escort taking her dish to the judges
Then Tuesday morning – the Awards Ceremony – to find out who won their category and the grand prize. Once again, the atmosphere was alive with excitement – who would win? I think all of us cried when the Grand Prize winner was announced – a few sad tears for ourselves and a few happy tears for the winner! Then it was off to the airport with recipe ideas for the 2010 Bake-Off already floating around in my mind!
Thank you, Linda!  Stayed tuned for next week's blog to see if Linda made it for a third time!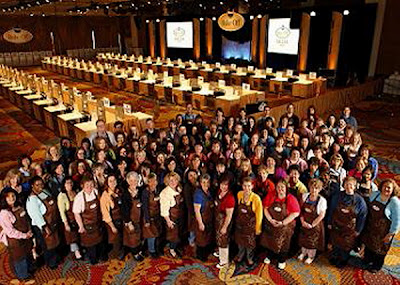 All of the contestants on the Bake-Off floor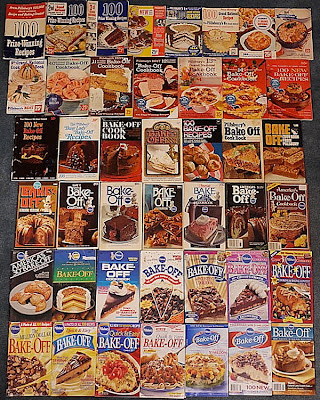 Here is every single Bake-Off book up to #43!
Other $5,000 category and special winners:
–Breakfast and Brunches Category:  Pamela Shank of Parkersburg, West Virginia, for her "Mascarpone-Filled Cranberry-Walnut Rolls."
–Pizza Creations Category:  Niki Plourde of Gardner, Massachusetts, for her "Apple-Jack Chicken Pizza with Caramelized Onions."
–Entertaining Appetizer Category:  Edgar Rudberg of St. Paul Minnesota for his "Salmon Pastries with Dill Pesto."
–Old El Paso Mexican Favorites Category:  Vanda Pozzanghera of Pittsford, New York, for her "Mexican Pesto-Pork Tacos."
–America's Favorite Recipe Award:  (online voting) Gwen Beauchamp of Lancaster, Texas for her "Toffee Banana Brownies."
To find the recipe for "Double Delight Peanut Butter Cookies" go to:  http://goo.gl/3MKui
Photos of "Double Delight Peanut Butter Cookies" and the photo of all the Bake-Off books are by my daughter, Kristina Vanni. Visit her blog at: http://www.betterrecipes.com/blogs/daily-dish
To read all my previous Bake-Off blogs:
Bake-Off #1: http://su.pr/7gmylO
Bake-Off #2: http://su.pr/2zgjZn
Bake-Off #3: http://su.pr/7VZzZS
Bake-Off #4: http://su.pr/292acQ
Bake-Off #5: http://su.pr/2yOSvP
Bake-Off #6: http://su.pr/28VYBh
Bake-Off #7: http://su.pr/1hk3nb
Bake-Off #8: http://su.pr/22JMGd
Bake-Off #9: http://su.pr/2KkA2E
Bake-Off #10: http://su.pr/8awD1k
Bake-Off #11: http://su.pr/1CmPvD
Bake-Off #12: http://su.pr/3ogo5M
Bake-Off #13: http://su.pr/1a4HYQ
Bake-Off #14: http://su.pr/3tgiV5
Bake-Off #15: http://su.pr/7tQXBu
Bake-Off #16: http://su.pr/9nPW7c
Bake-Off #17: http://su.pr/9WIaqm
Bake-Off #18: http://su.pr/6MMS45
Bake-Off #19: http://su.pr/2A7GIX
Bake-Off #20: http://su.pr/2MwjlD
Bake-Off #21: http://su.pr/1nIgIJ
Bake-Off #22: http://su.pr/1nkUgJ
Bake-Off #23 http://su.pr/20jQDK
Bake-Off #24 http://su.pr/AMfFSj
Bake-Off #25 http://su.pr/4btzLZ
Bake-Off #26 http://su.pr/2sJrvp
Bake-Off #27 http://su.pr/9cG4B1
Bake-Off #28 http://su.pr/24CMm0
Bake-Off #29 http://su.pr/8th5eg
Bake-Off #30 http://su.pr/AUUGkZ
Bake-Off #31 http://su.pr/9j9TQ6
Bake-Off #32 http://su.pr/76Fl0s
Bake-Off #33 http://su.pr/26Q4KJ
Bake-Off #34 (part 1) http://su.pr/3TlcV 
                      (part 2) http://su.pr/7suCub
Bake-Off #35 http://su.pr/1lZC8X
Bake-Off #36 http://su.pr/1Ogl7Q
Bake-Off #37 http://goo.gl/39Fh0
Bake-Off #38 http://goo.gl/5xrPz
Bake-Off #39 http://goo.gl/ca52t
Bake-Off #40 http://goo.gl/Kj0NQ
Bake-Off #41 http://goo.gl/SlRCz
Bake-Off #42 http://goo.gl/cw1Rs