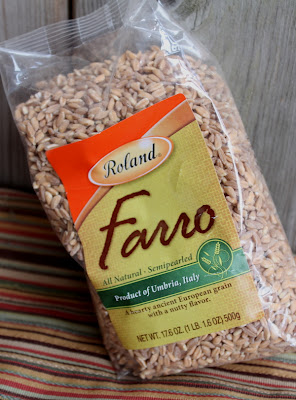 I am completely hooked on farro.  Farro is an ancient grain dating back 6,000 years with a delicious nutty flavor and a chewy texture like barley.  It contains twice the protein and fiber than modern wheat, and has been found to lower cholesterol and helps maintain blood sugar levels.  One half cup has 5 grams of fiber and 6 grams of protein, in addition to magnesium, zinc, niacin, iron, and 0 grams of saturated fat.  In addition to minerals and vitamins, farro is rich in antioxidants, phytonutrients, lignans, and betaine.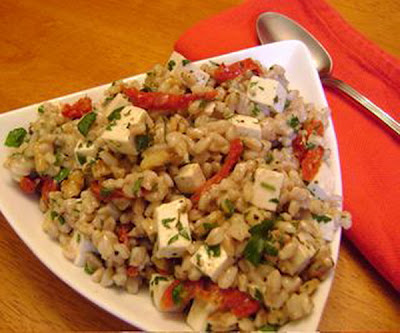 Try my simple, yet decadent recipe pairing farro with cubes of ricotta salata, a dry salted ricotta cheese that has a sharp, almost tangy flavor, and my new favorite cheese!
WARM MEDITERRANEAN FARRO SALAD
1 cup farro, rinsed
2 cups water
1/4 teaspoon salt
1 cup cubed ricotta salata
2/3 cup toasted coarsely chopped walnuts
2/3 cup chopped Italian flat leaf parsley
1/3 cup julienne cut moist-packed sun-dried tomatoes
1 clove garlic, minced
1 Tablespoon chopped fresh oregano or 1/2 teaspoon dried
3/4 teaspoon grated fresh lemon rind
Lemon Oregano Vinaigrette:
3 Tablespoons extra-virgin olive oil
2 Tablespoons fresh lemon juice
2 Tablespoons canola oil
1 Tablespoon white vinegar
1-1/2 teaspoons grated lemon zest
1-1/2 teaspoons Dijon mustard
1-1/2 teaspoons honey
1 small clove garlic
1/4 teaspoon salt
1/4 teaspoon black pepper
1-1/2 teaspoons chopped fresh oregano (or 1/2 teaspoon dried)
Garnish: Sprigs of flat leaf parsley or fresh oregano
1. Place farro, water, and salt in a 2-quart saucepan and bring to a boil over high heat. Reduce heat to low, cover, and simmer until liquid evaporates, about 20 minutes.
2. While farro is cooking, place all remaining salad ingredients except dressing in a medium serving bowl. After farro is cooked, spoon into a colander and let cool for 5 minutes, stirring frequently. Place warm farro in serving bowl with other ingredients and stir to blend.
3. Combine all dressing ingredients except oregano in a blender or food processor. Transfer to a bowl and stir in fresh oregano. (note: if you use dried oregano, you can just add to the rest of ingredients in blender)
4. Add dressing and stir to coat all ingredients. Serve warm or at room temperature. Serves 6.