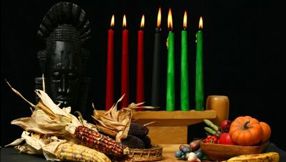 Kwanzaa is a non-religious holiday celebrating African-American heritage, pride, community, family, and culture.  It is a seven day festival starting today and it culminates on New Year's Day.  It is based on ancient African celebration and has become increasingly popular over the last decade.  More than 20 million people celebrate it in the United States, Africa, Canada, England, and the Caribbean. 
To read about the history of Kwanzaa and what foods are prepared during this celebration click on the link:
http://kwanzaaguide.com/2011/11/preparing-for-kwanzaa-2011/
Today is also a traditional shopping day for the day after Christmas, with lots of exchanges, returns, and the search for bargains. 
I hope everyone had a wonderful Christmas yesterday.  Whether you are celebrating Kwanzaa or going shopping, or just enjoying a quiet day at home, have a good day!