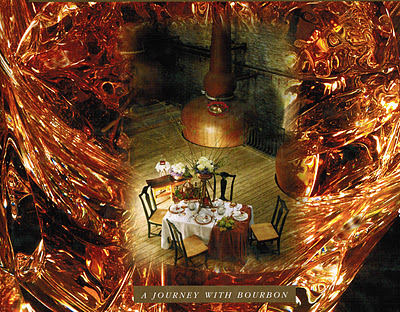 Bourbon Whiskey has been used to enhance the flavors of food for well over 200 years.  The Woodford Reserve Distillery of Kentucky  has introduced this beautiful cookbook with breath-taking photos and the history of bourbon production going back to the times of Daniel Boone.  To begin this culinary odyssey, Woodford Reserve took a panel of well-known regional chefs, and food and wine consultants through a tasting and pairing of the bourbon, who then developed the amazing recipes for this cookbook. 
Think of the inspirations of bourbon-  what's a Derby brunch without a mint julip?  Or what would classic bread pudding be without bourbon?  Pecan pies are enhanced by bourbon.  It is a purely American ingredient.  The recipes are perfect for a New Year's Eve or New Year's Day party.  They begin with cocktails.  The "Liquid Bourbon Ball" is made with bourbon, white creme de cacao, hazelnut liqueur, and chocolate shavings.  The "Hot Bourbon Cider" is made with apple cider, bourbon, ginger syrup, amaretto, white creme de cacao, and cinnamon.  I think either of those would be the hit of a party, or simply keep you warm on a cold winter's night.
Imagine bourbon in sweet potato biscuits; rib-eye steaks in a bourbon-sage marinade; pork tenderloin served with a spicy bourbon-fig-peach chutney; chicken hash patties with a dried cherry and bourbon sauce;  a pecan-crusted red snapper with a honey-bourbon sauce; or orange-scented bourbon shortcakes with a plum-berry-bourbon filling.  I am writing this at 10:00 in the evening and all I want to do is go in the kitchen and make some of these recipes.  And I might just do it for New Year's Eve this weekend.  Cheers.