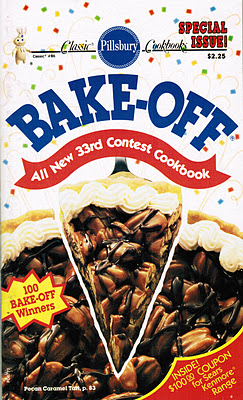 The 33rd Pillsbury Bake-Off  Contest in 1988 started off with a kidnapping, complete with news coverage and reward money.  The contest was held at the Sheraton Hotel on Harbor Island, San Diego.  Pillsbury thought it would be fun to have a 4-foot-tall Doughboy figure and a 7-foot-tall Jolly Green Giant figure greet the 100 contestants at the hotel lobby as they arrived for the competition.  Someone else thought it would be fun to kidnap them.  Around midnight one evening, the hotel night clerk noticed a man carrying off the Jolly Green Giant right out the front door.  To no avail, the clerk yelled "STOP!" as an assistant manager set off in pursuit of the kidnapper.  The perpetrator decided to drop the Giant before jumping into a waiting car which sped away, but the Doughboy was already taken and in the back seat.   The beloved missing Doughboy dominated the local television news and Pillsbury offered a reward for the safe return of the pudgy little fellow.  A few days later, probably because it would be hard to hide the Doughboy, and maybe hoping to avoid charges, the kidnappers returned him to one of the television stations, blindfolded and gagged.  (Maybe they got tired of hearing him giggle).  He recovered quickly, however, because he was returned to the hotel arriving in a jeep, looking like a Southern Californian by wearing sunglasses.  Anyway, he was safe and sound, and Pillsbury donated the reward money to a local charity.  It still remains a mystery who the kidnappers were, but there was speculation it was members of a high school prom that was held that evening in the hotel. 
What wasn't a mystery is that the judges of this Bake-Off loved Julie (Konecne) Bengstson's "Chocolate Praline Layer Cake."  Julie, a college music teacher, oboist and saxophonist from Bemidji, Minnesota, had just become a mother two weeks before the contest!  Julie said during the event that she was using two things Americans love – "chocolate and something gooey in between."  The recipe developed after a few tries, with Julie borrowing her mother's time-tested caramel roll recipe for the praline mixture.  "I kind of did this on a whim," said Julie.  "There was a lady from my hometown who won in her category four years ago.  She is the mother of one of my high school classmates.  She won $15,000, and I thought at the time that it seemed like a pretty good deal for just sending in a recipe, so I thought I'd give it a try."  Julie also won a $10,000 kitchen make-over, but the big reward came later when Julie's showstopper cake recipe was inducted into the Pillsbury Hall of Fame. 
When Julie flew home after the contest, she was greeted with "a reception you wouldn't believe."  Neighbors, relatives, fellow faculty members, and music students chartered a bus and went to the airport to meet her.  As Julie looked out her airplane window, she saw a huge cardboard Pillsbury Doughboy standing in the terminal window.  Her music students had formed an impromptu band.  The mayor presented her with the key to the city.  Photographers were everywhere.  "I knew that the whole neighborhood would be out there because we have a crazy neighborhood and we do a lot of things together, but this was more than I expected.  It was pretty fun."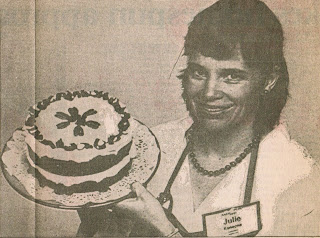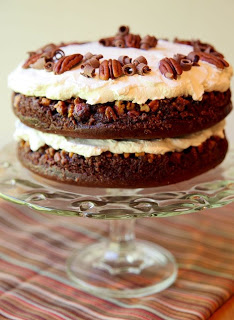 Julie's winning cake uses Pillsbury's Devil Food Cake Mix as a base, and is poured into cake pans containing a homemade praline mixture (butter, cream, brown sugar, and pecans) in the bottom of them.  After baking, the layers are turned out upsidedown, placed on top of each other with a whipped cream filling in between and on top, then garnished with chocolate curls and whole pecans.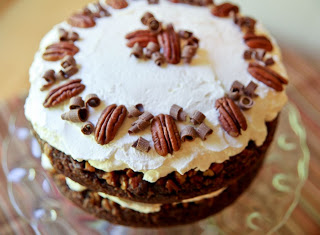 There were some firsts in this exciting contest.  For 73-year-old Olga Jason of New Bedford, Massachusetts, it was her first contest after trying every year to make it into the finals since the first Bake-Off in 1949.  Olga made a spinach soup whose secret ingredient, she explained, was nutmeg.  After learning she was finally going to be able to compete, Olga said, "I'm telling you, it's like a dream."  There were also finalists from the 1957 and 1961 contests who made it to the finals this time after all those years of trying.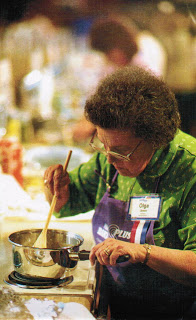 Olga Jason working hard on her soup entry.
Another first was the first husband-wife team to compete against each other in the same contest.  Joan Wittan, a health educator from Rockville, Maryland made the finals with her "Almond Raspberry Torte," while her husband, Mark Schiffman, an epidemiologist at the National Cancer Institute, entered with his "Cranberry-Filled Layer Cake."  When they learned they were both finalists, Mark explained, he and Joan "found ourselves yelling for joy in the middle of winter, outdoors, because this is such a fun thing."  If you remember from previous Bake-Off blogs about the "Maryland Group" who enter the Bake-Off together, this husband-wife team are members of this competitive group who hold their own "mini-Bake-Off's" to find the best recipes.  Their system obviously works, because many of them have made it to the finals.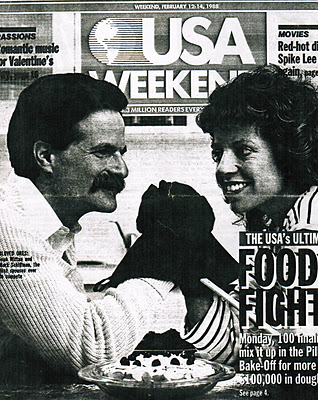 Joan Wittan and husband Mark Schiffman fight it out at the Bake-Off!
This contest was also the first time that Pillsbury added Green Giant canned or frozen vegetable categories.  The company also described the Bake-Off for the first time as a "cooking and baking contest," with any preparation method allowed, and sought recipes to fit contemporary eating styles by asking contestants to send their best recipes for indulgent treats, ethnic specialties, quick ideas, and wholesome alternatives.   Pillsbury hoped that by adding the new ingredients along with unlimited means of cooking methods, that it would broaden the contest's appeal, which it did, but it also showed that America still likes desserts – and especially if they contain chocolate!
Here are other prize winners:
$10,000 winners:
-Party Spinach Cups, by Beverly Ann Crummey of Brooksville, Florida
-Pizza Quiche, by Marilyn Erickson of San Jose, California
-Orange Date Crescent Claws, by Barbara Rhea of Beavercreek, Ohio
-Raspberry Chocolate Truffle Pie, by Carol Hird of Madison, Wisconsin
-Lemon Kiss Cookies, by Sandi Lamberton of Solvang, California
$2,000 winners:
-Italian Country Loaf  Rustica, by Miranda DeSantis of East Windsor, New Jersey (Yea, Miranda!)
-Garden Chicken Salad, by Edith Shulman of Grapevine, Texas
-Crescent Chick-Be-Quicks, by Rosemarie Berger of Jamestown, North Carolina
-Mexicorn Spoon Bread, by Carol Fassbender of Phoenix, Arizona
-Quesadilla Quiche, by Laurie Keane of Escondido, California
-Vegetable Frittata Pie, by Karen Stephens of Hamden, Connecticut
-Chicken 'n Artichoke Crescent Sandwiches
-Chocolate-Filled Caramel Buns, by Jeanne Holt of Mendota Heights, Minnesota
-Lemon Almond Breakfast Pastry, by Sharon Richardson of Dallas, Texas
-Golden Sesame Loaves, by Grayce Berggren of State College, Pennsylvania
-Marsala Raisin Torte, by Thomas Albrecht of Plymouth, Minnesota
-Lemon Macaroon Cake, by Rose Cordas of Lyndhurst, Ohio
-Pina Colada Cheese Tart, by Gloria Pleasants of Williamsburg, Virginia
To find the recipe for the grand prize winning "Chocolate Praline Layer Cake," go to:  
To read all my previous Bake-Off blogs:
Bake-Off #1: http://su.pr/7gmylO
Bake-Off #2: http://su.pr/2zgjZn
Bake-Off #3: http://su.pr/7VZzZS
Bake-Off #4: http://su.pr/292acQ
Bake-Off #5: http://su.pr/2yOSvP
Bake-Off #6: http://su.pr/28VYBh
Bake-Off #7: http://su.pr/1hk3nb
Bake-Off #8: http://su.pr/22JMGd
Bake-Off #9: http://su.pr/2KkA2E  
Bake-Off #10: http://su.pr/8awD1k
Bake-Off #11: http://su.pr/1CmPvD
Bake-Off #12: http://su.pr/3ogo5M
Bake-Off #13: http://su.pr/1a4HYQ
Bake-Off #14: http://su.pr/3tgiV5
Bake-Off #15: http://su.pr/7tQXBu
Bake-Off #16: http://su.pr/9nPW7c
Bake-Off #17: http://su.pr/9WIaqm
Bake-Off #18: http://su.pr/6MMS45
Bake-Off #19: http://su.pr/2A7GXI
Bake-Off #20: http://su.pr/2MwjlD
Bake-Off #21: http://su.pr/1nIgIJ
Bake-Off #22: http://su.pr/1nkUgJ
Bake-Off #23 http://su.pr/20jQDK
Bake-Off #24 http://su.pr/AMfFSj  
Bake-Off #25 http://su.pr/4btzLZ
Bake-Off #26 http://su.pr/2sJrvp
Bake-Off #27 http://su.pr/9cG4B1
Bake-Off #28 http://su.pr/24CMm0 
Bake-Off #29 http://su.pr/8th5eg
Bake-Off #30 http://su.pr/AUUGkZ
Bake-Off #31 http://su.pr/9j9TQ6
Bake-Off# 32 http://su.pr/76Fl0s