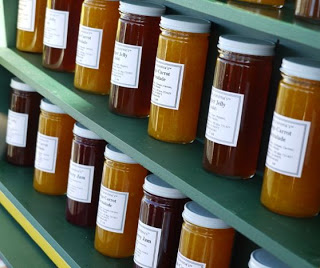 Labor Day is thought of as the symbolic end of summer.  It's a day for picnics, parades, travel, barbecues, and art fairs.  For some students, it is the last weekend to party before school begins.  But the holiday is celebrated as a tribute to the achievements of the American worker, who contribute to the strength and well-being of our country.
I found a woman with a real labor of love a few weeks ago at a Sonoma County Farmer's Market.  As you can see, these beautiful jars of jams and jellies were hard to miss as my daughter Kristina and I were happily browsing through the market.  The sweet woman who makes these beautiful jars of jams, jellies, and marmalades has some of the best I have ever tasted, anywhere.  Some were just made that morning and were still warm!  Although it was hard to pick a favorite because they were all amazing, Kristina and I decided the Orange-Carrot Marmalade was to die for!  How I wish I had bought more because we have already gone through one jar and are working fast on the last.  Others at the market had items such as homemade breads, flavored olives, pickles, relishes, several varieties of pot pies, candies, and cheeses, just to name a few.  How wonderful that we have so many talented, small business owners at our country's numerous Farmer's Market's.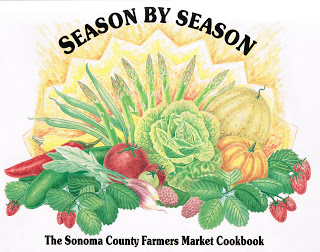 A day or so after we were at the Farmer's Market, I happened to find this great cookbook at a book sale, filled with recipes from local residents who frequent the market, along with chefs and farmers in the area.  Home to some of the richest land on earth, Sonoma county is filled with vineyards, orchards, pastures, and gardens.  Great chefs know this area well and sing its praises.  It is a land that is blessed by nature.  Kristina and I still talk about the container of strawberries we bought at the market that were picked about 2 hours before we bought them.  Never have we tasted such berries!  Every Sonoma resident also knows that their local Gravenstein apples make the best pies.  There is a Gravenstein Apple Festival held every summer in Sebastapol where a pie contest is held.   At one festival many years ago and after the pie contest, the winning recipe was published in the local paper.  It was so incredible that I entered it in our local county fair and it won the "Best of Show" award over and over and over for many summers.  So much so, that the officials of the culinary department asked me to quit entering to give other people a chance to win! 
Have a great Labor Day and make some marvelous food!!