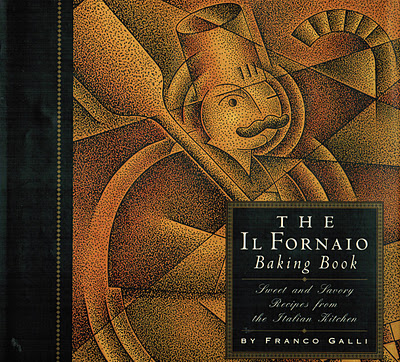 Author Franco Galli went to work as a baker's apprentice in his native Italy at the age of ten.  Despite his young age, he quickly developed a passion for the culinary specialties of his country.  He continued his education at a prestigious hotel school, managed his family restaurant, and eventually found his way to America.  The bakery started as a small shop in San Francisco and grew to include restaurants and cafes. 
Throughout the book along with the recipes, the chef will entertain you with the colorful history and lore that surrounds Italian baking, such as the story of the origin of the majestic panettone, a delicious egg bread with raisins and candied fruit.  One story suggests that the tall, cylindrical shape was created to honor the towers of Milan's great Duomo.  Another story claims that the bread was invented by a fornaio named Tonio, who proudly called it "the bread of Tony."  No matter the origin, panettone is the bread of Christmas in Italy.  An old tradition is to cut the bread into three slices and each person at the table takes a taste of each slice to ensure luck in the new year.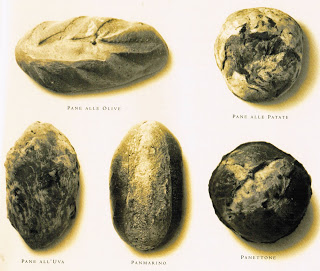 One of my favorite breads is ciabatta.  The region between Lake Como (where George Clooney has a home) and Milan called the Briatta, is noted for its furniture making and for the ciabatta bread.  Ciabatta means "slipper" and the bread is formed into this distinctive shape.  It is a crusty, porous loaf with big occhi ("eyes") inside, made from an elastic dough that must be pulled into its unique form.  It is common in Italy to find ciabattine, half-size ciabatta, split and filled with prosciutto. 
In addition to the wonderful recipes for traditional Italian breads, specialty breads, and pizza, there are recipes for biscotti and sweets such as the popular tiramisu which means "pick me up."  The unusual name derives from an Italian morning ritual of going into a cafe and asking for a tiramisu, something to "pick me up."  What is given is a shot of rich, thick Vov which gives the drinker energy for the day.  Vov is made from eggs, sugar, and Marsala, the same ingredients that go into the zabaglione that enriches the best tiramisu dessert.  Sponge cake layers are sprinkled with espresso and rum, stacked with mascarpone cream and zabaglione, then dusted with cocoa powder. 
The book includes information on equipment, ingredients, and techniques.  Everything can be made without expensive equipment; in fact for most breads, you don't even need pans!  Many breads are free-form and shaped by hand.  As you read the recipes, you will be enchanted by the chef's enthusiasm for baking and can develop your own passion for baking "the bread of Tony!"