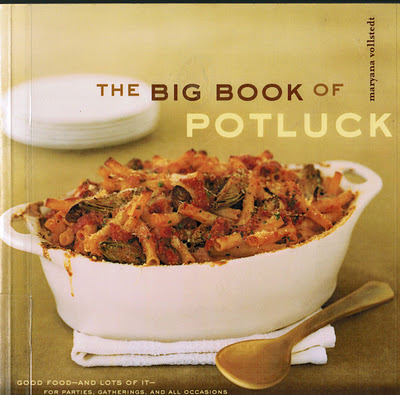 One of my favorite childhood memories is attending the potluck dinners after church.  Right before the service was over, the aroma from Fellowship Hall would start to fill the sanctuary. After the Benediction, everyone headed straight to the food.  At these potluck dinners, you wouldn't find something on the table from a grocery store deli, or heaven forbid, fast food.  Back then, the women of the church took pride in their homemade dishes and would beam if their food disappeared first, or someone asked for the recipe.  Alas, there may not be many of these church potlucks anymore, but people still love buffets with homemade goodies, whether it is a family gathering or neighborhood get-together.
This great cookbook will give you inspiration for your own dish to share at a party, celebration, or holiday meal.  Those who host huge Thanksgiving meals usually welcome dishes from family and friends bringing their best contribution for all to enjoy.  Potlucks are more relaxed, convenient, and make cleanup easier because everyone takes their own dishes back home.  They offer a greater variety of food, appeal to all age groups; save time, energy, and expense, and best of all, everyone always seems to have a good time. 
The next time you host a potluck, think of fun themes like a Superbowl party, a '50's party,  soups and salads, hors d'oeuvres and wine, or international potlucks such as all Italian, Mexican, French, Japanese, etc.  If you are hosting a potluck, remember that some people don't like to cook but would still like to contribute.  They could bring the centerpiece, drinks, condiments, or help with decorations or entertainment.  Those with food allergies or special dietary needs may be grateful that they can bring what they can eat and enjoy.
This book has crowd-pleasing recipes for every occasion and type including appetizers, salads, pasta, fruits, main dishes, and desserts.  There are tips for transporting food, keeping it hot or cold, food safety, and hosting hints.  Most of all, remember to relax and have fun – but bring along a copy of your recipe, because people will ask for it!