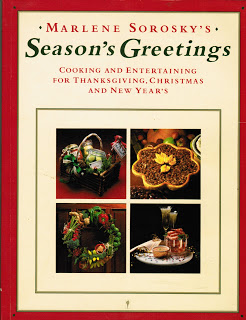 Ever since I bought this cookbook in 1986, it's still one of the first ones I pull out after Halloween.  It's been used so much that the binding is starting to break off, and pages are spattered and dog-eared – the signs of a well-loved cookbook.  This book will have you sitting back and relaxing all the way from Thanksgiving through New Year's. There are also great ideas to make gifts from your kitchen.  The author has it all planned out for you.   I have all of Marlene Sorosky's cookbooks, and I love how she will tell you how far in advance the dish can be made and how long it can be frozen.  These points are always good to know with holiday cooking.  I make Thanksgiving and Christmas dishes way in advance with these great recipes.  The book has solved the frustrating problem of menu planning and special dishes for this busiest of cooking seasons.
One of the recipes I make every year for big gatherings is the spirited eggnog cake.  The cake base uses purchased eggnog, has a glaze with rum, brandy, and nutmeg, and is topped off with a hard sauce of more brandy and rum.  The cake is baked in a jelly roll pan and you will get 70 small pieces of the cake, which is perfect for large crowds where guests enjoy having small bites of lots of different foods.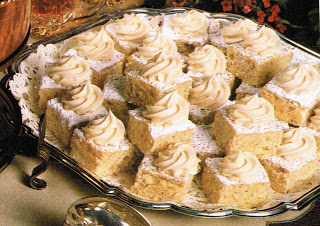 Don't those look wonderful!?  They are always gobbled up very quickly at parties.   Another good bite-size idea for parties is the glazed fudge squares; they are rich, moist, and very chocolaty.  One recipe I always make for Thanksgiving is the fresh cranberry relish which incorporates Grand Marnier, apples, and orange marmalade.  Some of the appetizers I love are the crab-stuffed mushrooms, mini corn muffins with chilies and cheese, veal and blue cheese meatballs, and shrimp with a vodka dip.  There are dozens of incredible cookies and desserts.  The New Year's Eve section for buffet ideas is out of this world.
Since this book is out of print, you will have to find it on Amazon or a used book store, but I highly recommend finding it now so you can begin cooking and baking for the busy holiday season.  And while you are at it, find Marlene's other books, too.  You will thank her as you are relaxing and enjoying your guests at your next party!