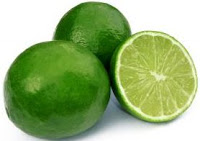 Here is a recipe for a beautiful and delicious lime pie for Spring!
Lime and Sour Cream Pie
3/4 cup sugar
3 Tablespoons cornstarch
2-1/2 teaspoons freshly grated lime peel
1/3 cup fresh lime juice
1 cup half-and-half
1/4 cup unsalted butter, room temperature
1 cup sour cream
1 baked 9-inch pie shell
Topping:
1 cup whipping cream
2 Tablespoons sugar
Garnish:  Slices of fresh lime
1.  Combine 3/4 cup sugar with cornstarch and lime peel in medium saucepan; mix well.  Add lime juice and stir until smooth.  Blend in half-and-half and butter.  Place over medium heat and stir until mixture thickens and starts to boil, about 10-12 minutes.  Remove from heat and let cool, stirring occasionally. Fold in sour cream. Turn mixture into baked pie shell.
2.  For topping, combine whipping cream and 2 Tablespoons sugar in medium bowl and whip to soft peaks; spread atop pie.  Chill until serving time. Cut into wedges and garnish each with slices of fresh lime. Serves 6-8.