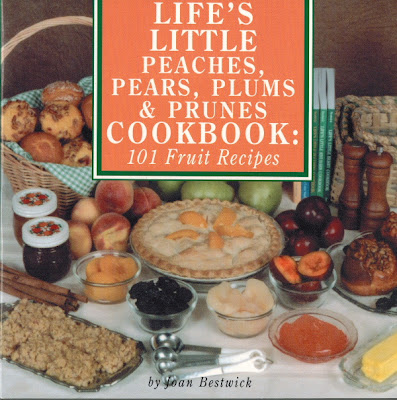 The little picturesque town of Big Bay, Michigan, in the Upper Peninsula, only has a population around 300 people.  For such a small town, it has one of my favorite places to find cookbooks and local food specialty items.  On our recent trip to the area, I headed straight to the store called "North Shore Treasures," known as "The Little Shop with so much Stuff."  It is only one of a handful of stores in Big Bay and has been in business for over twenty years.  My daughter Kara was with me and we were both excited to see what they had to offer since we hadn't been there in several years.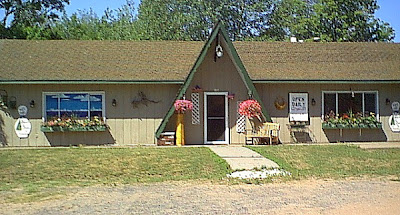 We were greeted by the friendly local ladies who have run the store for as long as it had been open.  We noticed right away that the entire back of the store was blocked off, where there used to be many treasures to find.   I assumed they were renovating.  Even with half the store missing, I still managed to find four cookbooks and a few other items.  Kara found some peanut brittle and caramels.  As we were checking out and chatting with the ladies, they mentioned that the store was closing.  Not that they wanted it to close, but the owner decided after over twenty years of renting it as a store,  he now wanted to make it his home.  I was sad to hear the news, which now makes this cookbook and the others I found as the last ones from North Shore Treasures.
This book caught my eye because of the fruit theme, and I was hoping some recipes would include preserving and canning.  It did not disappoint.  I found peach butter, four kinds of chutney, conserves, marmalades, and relishes, along with all kinds of main dishes and desserts using fruits.  There were quite a few recipes using prunes, which I love, but many people seem to think of them as a wrinkled fruit that only old people eat.  Prunes are actually becoming very popular, since they now appeal to those who have discovered the many health benefits.  Prunes include essential nutrients such as beta carotene, dietary fiber, and potassium; are naturally low in sodium and fat, and are cholesterol free.  They may even help reduce the risk of heart disease and certain cancers.
One recipe in the prune chapter captured my attention because the prune cake recipe sounded almost exactly like my grandmother's.  When I got back home, I found my grandma's recipe, and sure enough, it was almost the same as the one in the cookbook, except my grandma's had a cinnamon-prune icing.  I knew if there were recipes in the book that were like my grandma's, it would be worth buying. 
I will miss visiting North Shore Treasures, and will think of them when I make grandma's prune cake.  You can make it, too.
Prune Cake with Cinnamon-Prune Icing
Preheat oven to 350 degrees.  Grease an 8 or 9-inch square baking pan; set aside.
1 cup sugar
1/2 cup unsalted butter, room temperature
2 eggs
1-1/2 cups all purpose flour
1 teaspoon baking soda
1/2 teaspoon salt
1/4 teaspoon ground allspice
1/8 teaspoon ground nutmeg
1/2 cup prune juice
1 cup chopped moist prunes
In a mixer bowl, cream together the sugar and butter until fluffy.  Add the eggs, one at a time, beating after each addition.  In another bowl, stir together all dry ingredients and add alternately with the prune juice.  Stir in chopped prunes.  Pour batter into prepared pan and bake until cake tests done, about 25-30 minutes.  Cool completely in pan, then frost with prune icing.
Cinnamon-Prune Icing
2 cups confectioner's sugar
2 Tablespoons unsalted butter, room temperature
2 Tablespoons prune juice
1 Tablespoon lemon juice
1 teaspoon cinnamon
1/4 teaspoon salt
In a mixer bowl, beat together 1 cup of the sugar and butter.  Add remaining sugar and juices and combine.  Add cinnamon and salt; beat until creamy and spread over cooled cake.