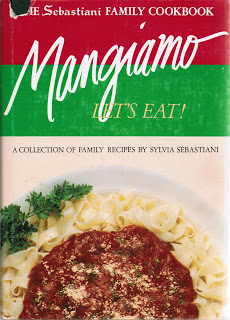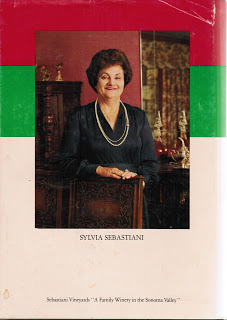 Roasting tomatoes has become a weekly task for awhile now.  My garden tomatoes have been growing gangbusters all summer, which is wonderful, since last year they fizzled out early.  The last time I was roasting them,  Moonstruck also happened to be on television, so it put me in an Italian mood.   I went to my cellar bookcases to find all my Italian cookbooks.  I have bought many of them in Napa or Sonoma, and this particular book, autographed by Sylvia Sebastiani, was hailed as "The First Cookbook written by a California Winemaker's Wife," so I carried it upstairs to read and study while the tomatoes were roasting.
Sebastiani Vineyards are in Sonoma county.  The original vineyard was planted in 1825 by padres of the Mission de Sonoma, and the winery was founded by Samuele Sebastiani in 1904.  Sylvia Sebastiani's husband, August, was a highly regarded winemaker, presiding over the winery from 1944 to 1980.  In her forty-five years of marriage to August, Sylvia Sebastiani accumulated the recipes found in her cookbook.  Some are old Italian recipes dating back centuries, while others are of her own creation.  The old family favorites include a superb biscotti from Sylvia's Aunt Mary, and her own special version of osso buco, cioppino, and calamari. 
Sylvia and August were high school sweethearts.  Every Sunday, August would leave Sylvia with his mother while he went fishing.  This continued until they were married.  But when Sylvia began cooking special Sunday dinners, August no longer embarked on his fishing expeditions.  She must have used the recipes in this book.  They are all home-style and substantial, and would certainly make anyone want to stay home and eat. 
I love the photo of Sylvia on the back cover, and am intrigued by her necklace, which you can barely see, but it looks like a cluster of gold grapes with diamonds.  I wouldn't be surprised if the necklace was a gift of love from her husband.  Maybe for admiration of her great cooking..