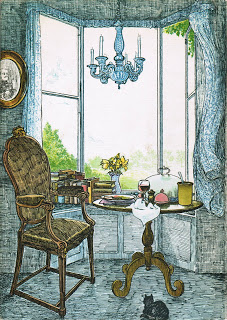 After my blog on Wednesday about our local apple orchard, it gave me the idea to go through my shelves and see if I could find cookbooks from life on a farm.  There are many written by cooks who started their culinary lives in farm kitchens, and one of the most familiar is Pepperidge Farm.  I doubt there is a grocery store in the country where you wouldn't find a Pepperidge Farm product, such as their numerous bread and cookie items.  There are many products with a made-up name to sound like "home," but Pepperidge Farm was a real place in Connecticut, named after the pepperidge trees on the farm, and where the first bread was baked.
Margaret Rudkin first decided to learn the art of bread baking because her son was allergic to various kinds of foods, and also suffered from asthma.  After studying about healthy foods and many attempts at the perfect loaf, Margaret developed a recipe suitable for her son and one that tasted wonderful.  When her son showed signs of improvement, Margaret took a loaf of bread to her son's doctor.  He wholeheartedly approved, and even recommended it to his other patients, and suggested she sell it.  Loving that idea, but not knowing how store owners would warm up to the idea of selling someone's homemade bread, Margaret also carried along a bread knife and some butter.  When a proprietor showed no interest in selling her bread, she would pull out her bread knife, cut a slice, butter it, and hand it over.  No one turned her down after a taste test.
Later, after the huge success of her breads, Margaret went on a trip to Europe in the 1950's and discovered the joy of fancy chocolate cookies and decided they should be introduced to the American food world.  From there, other products developed over the years.  Now known as a cook extraordinaire, Margaret decided to write this cookbook.  It was first cookbook ever to make the New York Times bestseller list.  The book contains, what else, amazing bread recipes in addition to many dishes from Margaret's childhood and newly developed ones. 
Some of you may remember the Pepperidge Farm commercials that ran for three decades beginning in the late 1950's through the late 1970's.  The commercials featured an old radio actor, Parker Fennelly, who told us we should buy the products because "Pepperidge Farm Remembers."  He died in 1988 at the age of 97, but some of the nostalgic series of commercials still aired into the 1980's. 
I feel a bond with Margaret Rudkin because she was also an avid cookbook collector.  She mentions how she loved to hold the books in her hands, and find the names of former owners written in careful script with ink, faded with age.  She also loved the margin notes written by owners, and of their love for certain recipes in the book.   Yes, I believe Margaret Rudkin definitely remembered.