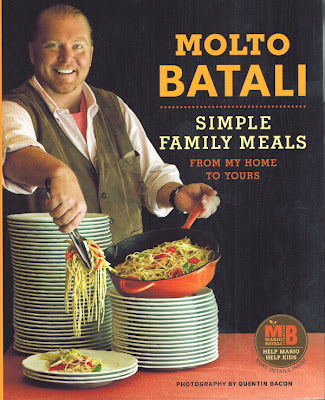 Mario Batali is a family man.  He may have a culinary empire with his James Beard Award-winning books, fifteen restaurants, and the fabulous
Eataly in New York City
, but family is tops on his list.  On his daytime cooking and talk show, "
The Chew
," his face will light up when speaking of how his sons love to help him in the kitchen.  When my daughter Kristina and I attended the International Home and Housewares Show in Chicago last month, we were ecstatic to attend the invitation-only Mario party.  We had met him at the same show a year earlier, where Kristina had a one-on-one interview with Mario.  He was sweet, patient (when Kristina's video camera wasn't working!), and has that sparkle of someone who loves their profession.  With the knowledge we had of Mario from the last experience, we knew this party would be a grand occasion.
Walking down the hallway to find the room, the aroma of Mario's food led us right to the door.  We were immediately greeted with a glass of wine, numerous hors 'd oeuvres, and a buffet filled with pasta, seafood, vegetables, and desserts.  Pure heaven.  We had lively discussions with others in the food and wine business, including a lovely couple from Tennessee who owned a kitchen store.  In between sampling all of the food and chatting with our new culinary acquaintances, Mario gave everyone a copy of the cookbook, which he graciously signed for every guest.  When I sat down next to Mario, he asked me my name and what I would like him to write.  Of course, I wanted my Culinary Cellar in there somewhere so I passed on the information in the midst of the very loud, very lively party.  Apparently, he did not hear Culinary Cellar, but heard Culinary Center!  So for one day, my blog name became "The Culinary Center," but that was fine.    Mario can name it anything he wants.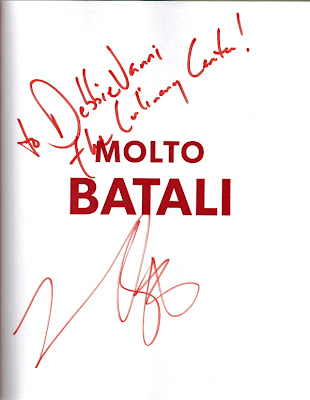 The recipes in the cookbook are just as the title says- simple family meals presented seasonally by month, with the freshest of ingredients from each season, all easy to prepare for families.  Each month is on the hunt for what the Italians call primizie, the arrival of the very first piece of produce that announces the coming of a new season.  The recipes serve from eight to twelve people, but each can easily be halved or doubled.  For this lovely month of April, which is the beginning of spring cooking, there are recipes such as escarole soup, farfalle with arugula, fresh Italian ham, baby artichokes with lemons and pancetta, fresh peas with toasted garlic and almonds, and asparagus with a walnut-orange pesto and citronette. 
One of our local Farmer's Markets opens this weekend, and I plan on being there when it opens, hopefully finding some of the luscious Spring ingredients, especially fresh peas, which I adore.  I love cookbooks that emphasize seasonal ingredients, and with this book using a month-by-month offering the best of our local fare, it will be a good year of cooking.