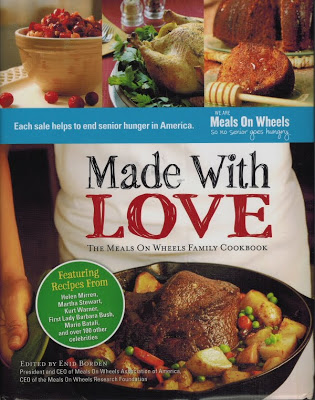 Pick up just about any newspaper and you will find almost daily articles concerning the issue of  obesity in our nation.  What you don't read about as often is the problem of our many seniors who would go hungry if not for the "Meals on Wheels" program.  The Meal on Wheels Association of America is the oldest and largest national organization composed of and representing local, community-based senior nutrition programs in all 50 states, as well as the U.S. Territories.  There are about 5,000 local senior nutrition programs that provide well over one million meals to seniors each day.  For some seniors, this is the only meal they have during the day, and sadly, sometimes it is their only communication with the outside world.  The delivery of a nutritious meal from the many volunteers is a vital lifeline to those in need.  My own mother delivered "Meals on Wheels" meals to seniors for many years and can attest to its importance.
This new cookbook was written to raise awareness of the serious senior hunger issue in our country, and when you buy the book, the proceeds go to the national program and even to your own community.  Not only that, you will also own this great cookbook filled with recipes from over 100 of your favorite celebrities and chefs.  One recipe I can already tell you about is Patti LaBelle's fish tacos.  I made them last week and they were easy and delicious.  So good, in fact, that I will be making them again soon (with some added fresh cilantro).  Since I am always on the lookout for a new potato salad, Joan Lunden's is on my list.  She uses black olives instead of green or pickle relish, and yogurt combined with the mayo.  One of my favorite chefs, Bradley Ogden, offers his apple crumb pie.  There are so many recipes to try including appetizers, breakfasts, side dishes, main dishes, pasta and rice, soups and stews, casseroles, and desserts, from Martha Stewart, Mario Batali, Helen Mirren, and many more.  Each recipe includes a short bio from each along with a story about cooking in their own families, and even a few recipes that have been handed down from generations. 
The CEO of the program says that "Meals on Wheels" nourishes the soul almost as much as it nourishes the belly.  Enjoy this book and its many wonderful recipes, knowing that you are not only serving great food to your family, but helping those who need our help so much on a daily basis.