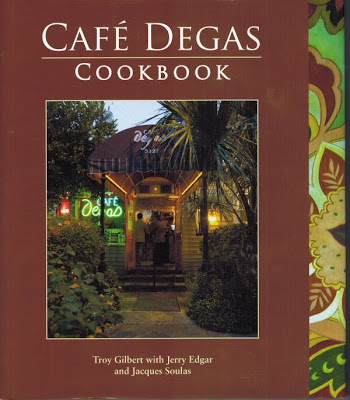 I am a food-lover who has never been to New Orleans, which I understand is a crime.  Not that I don't love the food of this historic city, as I have many New Orleans cookbooks, but I need to make the journey down South to savor the real thing.  In the meantime, I can prepare some of the culinary treasures from this cookbook thanks to my friend Madonna, who loves New Orleans, and who is also celebrating her birthday today.  Happy birthday, Madonna, and thank you again for this lovely book.
Cafe Degas, a small cottage shaded by live oaks, is located on historic Esplanade Avenue.  The dining room is a roofed porch open on three sides to enjoy the evening air when the weather cooperates.  The bar is small and intimate, and the kitchen even smaller.  Just as good things come in small packages, Cafe Degas has become, since 1986, a favorite gathering place of locals and tourists.  The entire staff is dedicated to the pure pleasure of its guests with the European feel and offerings of the finest French Bistro fare.  The dishes are largely classic French, but some are infused with the personal creativity of the chef while still keeping the prices affordable.
The cafe's name is taken from Edgar Degas, the famed French impressionist who resided in New Orleans just down the street on Esplanade from 1872 to 1873.  One of the first employees of the cafe, David Musson, bears an uncanny resemblance to the artist, and it is no coincidence.  He is a descendant of the painter's family.  He is still with the restaurant, and on any given night, one may be lucky enough to catch a conversation with him as he sips a glass of cabernet.
Thumbing through the book page by page, I started adhering post-it notes to every recipe I wanted to make.  Needless to say, it was almost every page, so I pulled them out and vowed to just cook through the book.  First are three simple recipes, but ones I always love to make-  a roasted garlic aioli, rouille to serve with toasty baguette slices, and a Maitre d'Hotel Butter to serve over a grilled steak.  The Degas Hush Puppies are also on the list, along with a Brussels sprout salad, and a carrot vichyssoise.  Creme Brulee is probably my favorite dessert, but I have never made a version that uses 15 egg yolks, not to mention the 4-1/2 cups of heavy cream.  I'm sure it's amazing, but….yikes!
When I finally complete the shelves in my culinary cellar, the Cafe Degas book will have a place with my other New Orleans cookbooks, but will always be just a little more special than the others because it was a thoughtful gift from the heart.  Thank you, Madonna, and have a wonderful birthday today.  Let me know if you ever make that decadent creme brulee.