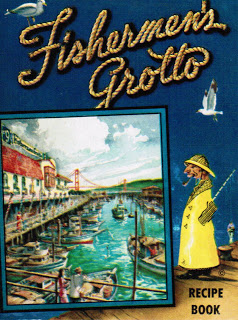 The first cookbook in my mass collection was not actually a cookbook, but a booklet.  It only measures 4-by-5-inches with 10 tiny pages, but as a 5th grader, I thought it was cool.  My dad was transferred to the San Francisco Bay Area, and I was very upset to leave our home in suburban Chicago where I was born.  I thought my heart would break as I waved good-bye to all my neighborhood friends as they lined up in the street to see us off to the mysterious West.  I had only seen photos of San Francisco and did not know what to expect.  We crossed the Rockies, where I was sure we would drive right off a cliff. It was onto Utah where we visited the Dinosaur National Monument, and then got a flat tire in Salt Lake City.  We made it to Yosemite, which I found to be breathtaking.  Maybe this California thing was not so bad after all. 
During our first weeks in our new home, my parents must have known my brothers and I were still sad about the move, because they took us into the city, and out to dinner!  Growing up, we hardly ever went out to dinner.  We always had the greatest food at home, so why go out?  But as we drove into Fisherman's Wharf for the first time, my senses went wild.  There was the ocean breeze, the smell of Dungeness crab permeating the air, Alcatraz only a boat ride away, and the view of the Golden Gate Bridge.  Chicago is great, but this was different.  The first place we went was Fisherman's Grotto, at No. 9 Fisherman's Wharf, at the foot of Taylor Street.
The Venetian atmosphere of Fisherman's Grotto was like nothing I had ever seen.  The Italian waiters had long curly moustaches, spoke with an accent, and brought the best bread of my life, sourdough of course, to our table.  We sat at tables with bright red and white mooring poles, which by the way, are still there today.  The symbol of Fisherman's Grotto, aptly named "The Little Fisherman" in his yellow raincoat and hat is still on the sign.  Our waiter told us that they had the best Crab Louie Salad in all of San Francisco.  I had no idea what that was, but since he was the one who brought me sourdough bread, how could I not trust him?  With the first bite, I knew I would be begging to return to this paradise.  The waiter smiled as he could see how much I was enjoying the salad.  He left momentarily, came back, and handed me the booklet.  I couldn't have felt more special, and I made my mother promise that we would make the salad dressing. 
Crab Louie Salad continues to be one of my favorites, and sourdough still my favorite bread.  Sourdough is available everywhere, but none taste like the loaves made in San Francisco.  My dad was transferred again the next year, back to Chicago, and  I had to leave my beloved No. 9.  Every time I am in San Francisco it is the first place I go, even though the Wharf is not the same.  It is way too touristy and crowded, and I don't know if today's gourmet palate would say it is still the best Crab Louie Salad in the city, but it always will be to me.  Believe it or not, No. 9 still gives out the booklet, and it looks very close to the original.  I was there not long ago, and I looked around to see if there was any young girl enjoying her salad.  I would have walked up and handed her the booklet myself.