Since today is my birthday, cakes are on my mind.  I have many cake cookbooks, but this is one of my favorites that I bought around the time I was married.  Creative Cakes by Stephanie Crookston was published in 1978.  In 1974, Stephanie opened a "cupcake-sized" shop in New York City.  Not long after opening, her extraordinary cakes were featured in magazines, newspapers, television shows, along with a long list of "Who's Who" of New York City elite as her clients.  Even though today there is the "Ace of Cakes" on the Food Network with mind-boggling cakes that seem impossible to make, Stephanie may be the one who was at the forefront of taking cakes to a new level. 
The book begins with basic techniques such as mixing colors, how to spread frosting smoothly, three dimensional cakes, and freezing and storing.  The recipes are mostly everyone's favorites like chocolate, white, peanut butter fudge, and butter cakes, with frostings of all kinds.  She even includes some of her personal favorite desserts like banana cream pie and pecan pie.  One of the chapters contains easy-to-follow illustrations for making 16 creative cakes like an artist's palate, a pair of sneakers, a can of baby powder, and a typewriter.  The chapter called "Cakes I Have Known" talks about some of the unusual requests for custom cakes over the years such as a wheel barrow with bricks, a fortune cookie, and a crossword puzzle cake for a wealthy client with words such as Ferrari, Mercedes, London, Paris, etc.  And below, someone really enjoyed her Scotch Whisky enough to make the bottle into a cake!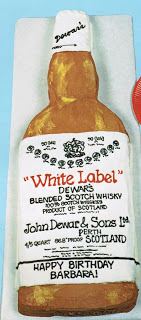 Even though I have many cake cookbooks, for my birthday, there is still nothing better to me than my Great Aunt Margery's Chocolate Cake.  It's a very old family recipe that has been enjoyed numerous times at birthday parties.  It can be iced with any flavor of your favorite frosting, but I always like chocolate cakes with chocolate frosting.  Not a very "Creative Cake" but a family favorite for decades.  However, a whisky beside it might add some excitement to any party!
Great Aunt Margery's Chocolate Cake
3/4 cup vegetable oil
2 cups lukewarm water
2 Tablespoons white vinegar
1 teaspoon vanilla extract
3 cups all-purpose flour
2 cups granulated sugar
2 teaspoons baking soda
1 teaspoon table salt
6 Tablespoons unsweetened cocoa powder
1.  Heat oven to 375 degrees.  Grease and flour the pan size of  your choice.  The cake can be made into layers or in a 9-by-13-inch pan.
2.  In a mixing bowl, beat together the oil, water, vinegar, and vanilla until blended. 
3.   In a bowl, stir together the flour, sugar, soda, salt, and cocoa powder.  Add to the oil mixture and mix until blended.  The batter will be thin, and yes, there are no eggs!  Pour batter into prepared pan of choice and bake until a toothpick inserted into the center comes out clean.  The time will depend on what pan you use, but check after about 25 minutes and go from there.  Let cake cool in pans, if using layer pans, for 10 minutes then turn out to cool completely.  If using a 9-by-13″ pan, let cake cool in pan before adding frosting.
Chocolate Frosting
1 cup unsalted butter, softened
1 cup solid vegetable shortening (plain Crisco)
1 pound package confectioner's sugar
6 Tablespoons unsweetened cocoa powder
3 large eggs
Dash of salt
1 teaspoon vanilla extract
1 Tablespoon instant coffee powder
4 Tablespoons hot, brewed coffee
1.  In a mixer bowl, cream together butter and shortening until well-blended.  Add sugar and cocoa powder; blend until smooth.
2.  Add eggs, one at a time, beating well after each addition.  Mix in salt and vanilla.
3.  Dissolve the instant coffee powder into the hot coffee.  Add to frosting mixture and beat well until of spreading consistency.  Frost cake as desired.  If you have leftover frosting, it keeps well, covered, in the refrigerator.