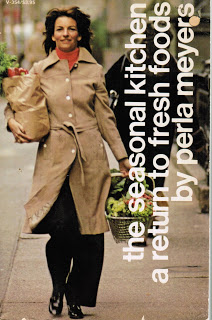 Before there were Farmer's Markets everywhere, before fresh cooking and being green were trendy, there was Perla Meyers.  I love this cookbook. I love all of Perla's cookbooks, so you will see more of them later.  But for now, here is her first cookbook published in 1973.  "The Seasonal Kitchen:  A Return to Fresh Foods," was voted the best cookbook of 1973 in the eighth annual R.T. French Tastemaker Award Program, and also best in the basic cookbook category, AND best in the author's first cookbook category.  Whew!  It was the first book ever to win all three awards.  And deservedly so.
The Seasonal Kitchen is more than recipes, it is a philosophy of food.  Perla talks about each of the seasons and how we can tune in with them to cook and eat.  She will even explain how to develop your own home garden and reap the benefits in your daily cooking life.  Perla believes that cooking with fresh ingredients does not mean spending hours in the market or in the kitchen.  It means just starting small such as the addition of a fresh lemon sauce to green beans, or a saute of beets with cream, butter, and fresh herbs.  Introducing fresh items little by little will help to understand and taste each flavor and figure out what is best to use for each new dish you make.  When walking through a Farmer's Market, or the fresh produce of your grocery store, Perla says let the fresh items speak for themselves.  If you were thinking of making a strawberry shortcake but the strawberries don't look appealing, see if another berry looks better for today.  Seasonal cooking is catching freshness at its prime.
The chapters are divided into spring, summer, fall, winter, and all-seasons kitchens.  Before each chapter Perla will explain what is best that particular season and marks each recipe as inexpensive, moderate, or expensive; and whether it is easy, intermediate, or difficult.  The cookbook is written for the novice cook and the experienced chef.  I had the pleasure of watching Perla at a cooking demonstration at a Marshall Field store in Chicago sometime after her book was released.  I was still in my 20's and becoming interested in learning more about cooking with fresh ingredients, as I had grown up experiencing the bounty of my great aunt's Iowa garden.  Perla took it to another level.  The first dish I made upon returning home with the new cookbook was the Spaghettini Primavera.  It was pure heaven, although I had quite a time finding prosciutto at that time!  At the cooking demo, Perla also handed out copies of other recipes not in the book, which I still have, marked with all kinds of notes I took.  She told us her favorite brand of olive oil, mustard, and other essentials.
I love the photo of Perla on the cookbook cover.  She looks so happy walking down the street with a vegetable-filled bag on her arm along with a full basket of other produce.  She has on a raincoat, and her hair is blowing in the cool air.  I want to stop and ask her what she is making for dinner that night.  You can bet it's going to be amazing.