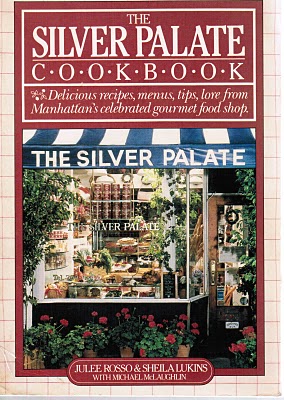 It is said that Julee Rosso and Shelia Lukins changed the way people cooked in the 80's.  When the two women opened up their 165-square-foot shop on New York's Upper West Side, few Americans could find raspberry vinegar, knew how to make tapenade from scratch, could find chevre at any grocery store, and didn't know that cut-up vegetables were known as crudites.  The talented women offered such exotic fare as Moroccan chicken pies and Greek mezes, when the most exotic item anyone really knew was maybe a classic like Duck a l' Orange.  The shop reached a national audience when The Silver Palate cookbook was published.  One of the favorites in the book, Chicken Marbella, became a dinner party classic across the country.  I still have friends who say they never make a turkey any other way since they first discovered the recipe in the cookbook simply titled, "Our Favorite Way to Roast a Turkey."  I had never made phyllo triangles before until I made the three with roquefort and pistachio filling, spinach-feta filling, and rosemary and prosciutto filling.   I can remember thinking I was so gourmet, yet they were not hard to make.  I think that's what so many people loved about the Silver Palate recipes – they seemed very sophisticated with huge flavor, yet could be made in any home kitchen, followed by guests begging for the recipes. 
I remember when I first bought the cookbook, I couldn't put it down.  I was mesmorized by all the new foods and ideas, and the delicate sketchings throughout the book in place of colorful photos.  I still make the phyllo triangles, and trust me that there is no way to describe the wonderfulness (is that a word?) of the Strawberry Chocolate Tart.  If you remember one of my previous blogs about having cookbook author Bernard Clayton, Jr. come to my home for dinner, the dessert I served was that tart.  I knew it was flawless, so I was not afraid to serve it to a famous cook.  And he loved it.
On a trip to New York City in the mid-80's, one of the first places I had to visit was the actual Silver Palate shop at Columbus and 73rd Street.  I knew it was small, but I wasn't expecting that small!  But what delicacies were to be found in such a tiny place!  We devoured some delectable food, of course, but I treasure two other items I bought that day.  One was a large bright red tote bag with "The Silver Palate" written in white letters.  The other is a tiny cookie tin made in the likeness of the shop.  I'm sure both are collector's items now.  Below is a photo of my daughter, Kristina, who was only about 7 years old at time, posing in front of the tiny shop.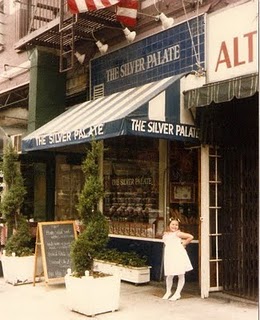 I'm sure there are many people who miss this fabulous little shop with the big flavors.  Even though the store was sold in 1988, and it closed in 1993, the name still continues with a line of specialty foods including sauces and condiments, all of which I can buy at one of my local food stores.  Sadly, Shelia Lukins died of brain cancer in August of 2009.  Her legacy lives on, at so many parties and family gatherings, where her wonderful recipes continue to put a smile on many a face.  I know I will for years to come.  I think I will head to the kitchen and make the wonderful Butterball cookies on page 257 and store them in my favorite tin.