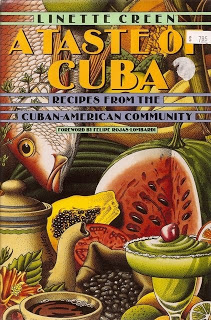 One of my fondest memories is when a young man, Noel, from Cuba came to live with our family back in the late 1950's. My father was a lay minister for our church, and every year the church would sponsor an individual or family from a foreign country, with the hope of offering a new life in the United States. At this particular time in history, many Cubans desired to leave the Batista regime, which is how Noel came to live with us.
Noel was my first introduction to real ethnic cuisine as a young child. He lived with us about a year, before he returned to Cuba to get his wife and bring her back to the states with him. While living with us, he loved to make his specialty, arroz con pollo – chicken with rice. I can remember coming into the house and smelling garlic, knowing that meant dinner for the evening was going to be Noel's chicken. Garlic was a new aroma to me because my mother did not like cooking with fresh garlic. She thought the smell lingered in the kitchen too long, and its flavor embedded itself into her wooden cutting board. Now, she confesses, that at times she even threw out Noel's garlic so he wouldn't use it so often! But I loved Noel's chicken, and still do to this day. He had stuffed olives and raisins in his recipe, and I thought that was so exotic! My mom still makes it, too, but just uses "a tiny clove" of garlic. She never did learn to like a lot of garlic in anything. But Noel was a joy to have in our home. I remember the first Christmas he was with us, he thought it was so funny that people across town had "NOEL" signs in their yards or on doors for decoration. He joked that it was all for him. In my mind, it was, because I thought everyone must know how wonderful Noel was and had to advertise it! Noel called me sometime last year from Miami, where he now lives, and I reminded him of the NOEL signs and his wonderful arroz con pollo. He still makes it, too. With lots of garlic.
"A Taste of Cuba" by Linette Green, published in 1991, is a wonderful introduction to Cuban cuisine. It is said that Cuban food reflects the Cuban spirit: tradition with the spark of adventure. Think spiced fish, savory paella, hearty black beans and rice, tropical rum drinks, creamy flans, and of course, the classic arroz con pollo. The recipe in the book is not exactly like Noel's, but sounds delicious. Other recipes include, spicy crab cakes with papaya chutney, fried shrimp with coconut-beer batter and orange cocktail sauce, fresh corn and red pepper tamales, tri-colored bean salad with bacon dressing, cider and mango roasted ham, papaya-raisin bread, and coconut-banana cream pie. Each page is better than the next, making it a hard book to put down. The recipes are very easy to follow and not at all complicated. You will want to try everything! I'm sure Noel would approve. And my mom can always take out most of the garlic.