Today marks the first anniversary of this blog.  I can't believe I have been writing for a year, and have loved every minute of it.  The first blog I wrote was on January 31, 2010 which would have been my Grandmother's 113th birthday.  In her honor and memory, the first blog was about her original Fanny Farmer cookbook.  Grandma was an avid reader and would have loved my blog.  I decided to start a blog for two reasons – I have thousands of cookbooks and recipes gathered over the years and wanted to share them.  The other reason is that I simply wanted to have something for my family and friends to read and enjoy.  I never would have guessed I would end up with readers from across the country and around the world.  I have found it to be a joy to make new friends through the blog, and find other cookbook and cooking blogs to read, too.  Writing also helped me become re-acquainted with some of my  hundreds of old books, but also with old friends and memories, as was the case several weeks ago.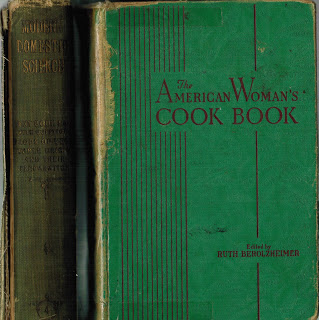 Before explaining about these wonderful, very old cookbooks, I need to tell you about my childhood best friend and neighbor, Linda.  Linda and I grew up together since we were infants, and our mothers became close friends.  We lived one door away from each other and lived at each others' house practically on a daily basis.  If my mom couldn't find me, she would phone Linda's mom, Dot, and knew I would be found there.  I recently received a letter from Linda, telling me of Dot's passing at the age of 94.  I knew of her age, of course, but there was still something strange about reading of her death.  Dot was so full of life and I can't picture her any other way.  To me, she was the beautiful and sweet mom, who always seemed so put together and even glamorous.  Linda and her sisters, Cindy and Carol, were the epitome of glamour to me, so they had to learn it from their mom.  Dot was always busy and moving.  I don't think I can ever recall just seeing her sit and do nothing.  Dot also had a great sense of humor.  One day when I arrived at Linda's house to play, Dot said I could come downstairs with her while I waited for Linda.  Linda's sister, Carol, was in the basement listening to Johnny Mathis on the record player.  Dot was doing laundry and when the clothes were dry, her dryer didn't buzz or beep to let you know it was done; instead it chimed the song  "How Dry I Am!"  It always made me giggle, so Dot starting laughing, too.  She leaned over and said, "It's not exactly Johnny Mathis, but it's fun, isn't it?"  Dot was also the first person to ever get me to eat potato salad.  As mentioned, since  Linda and I were always at one of our homes, we would have lunch or dinner with each others' family frequently.  One dinner at Linda's we had hot dogs and potato salad.  I wasn't eating the salad because I didn't like mayonnaise.  Dot told me to take just one bite and see if I liked it.  Needless to say, I was hooked forever, and potato salad still remains to this day one of my favorite indulgences.  I think the only time Dot got upset with Linda and me, was when I decided to run away from home.  I was in about 2nd or 3rd grade at the time, and got mad at my mom for some reason and decided I should leave the house and go far away.  Far away was Linda's closet.  I went to Linda's and told her I was running away and asked her if I could live in her closet.  Of course, Linda agreed,  gave me a blanket and pillow, and even brought food and water.  It didn't take too long for my mom to figure out I was gone, but loyal friend that she was, Linda was not about to tell anyone she was harboring a fugitive.  Finally, Linda broke when she saw how upset our mom's were, and Dot came to get me.  She told me to not ever, ever do that again, and returned me to my very relieved mother. 
When I arrived home one day a couple weeks ago, there was a box from Linda waiting for me on the front porch.  I opened it to find the above cookbooks.  The note from Linda explained how Dot wanted me to have them.  I don't know when I have ever felt so touched.  I became flooded with memories of Dot, Linda, our childhood homes, our adventures, and everything in between, just by holding the books in my hands.  It actually took me awhile to stop crying and even get the strength to get up out of the chair.  It suddenly occurred to me that I knew who I was going to honor on my one-year blog anniversary, and to try and explain the power of something like a cookbook.  I have been asked many, many times why I don't use online recipes or at least digitize my favorite recipes; or I even get strange looks when I tell or show people how many cookbooks I have, and how many recipes are filed away in a card catalogue and filing cabinet.  I'll tell you why.  Because there is something that is lost when it goes digital, especially something like a cookbook or recipe, that is yellowed, torn, dog-eared, or scribbled on in someone's own handwriting.  Software programs for cookbooks and recipes are very slick and modern, but what happened to that original, living recipe?  The one that you made for birthday parties and anniversaries, or just a quiet night at home; about who you served it to, how it was received, and how you could improve it if it needed tweaking.  Old favorite cookbooks are timeless and historical, and there is no APP for that.  Dot didn't just give me a couple of old cookbooks.  She gave a part of herself back with her generosity and kindness. Memories of Dot will always be with me each time I touch her cookbooks.  Thank you, Dot;  and thank you Linda for still being a part of my life.