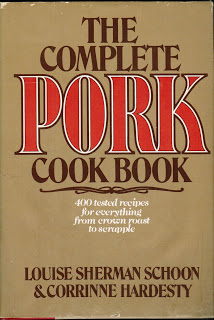 The pig is actually an ancient and honorable animal.  According to Darwin, the pig was domesticated in China around 5,000 BC.  Hogs came to the Western Hemisphere ahead of the Mayflower; Columbus brought eight on his second voyage.  The sow was even viewed respectfully by Greeks and  Romans as the nourisher of Zeus.  Pigs have been celebrated in song,  fables, stories, paintings, and sculpture.  Rembrandt and Rubens included them in their paintings.  But, lest we forget, pigs taste pretty darn good, too.  Pork is a versatile meat – it can be cooked quickly or slowly; used in stews, casseroles, salads; and can be frozen, dried, smoked, and grilled.  It can also be elegant party and restaurant fare, worthy of the finest wine.  It is high in nutritive value and can be a dieter's best friend.  What's not to like?  This comprehensive book explains how to buy pork, serve pork, and cook pork, even a whole pig.  There are recipes for appetizers, bacon, chops, marinades, ham, grilling, roasting, sandwiches, ribs, tenderloins, and even, if you can believe it, a pork dessert, which sounds like something out of Iron Chef.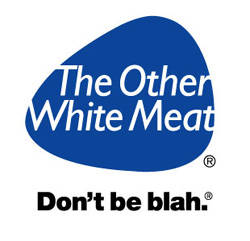 If you are a pork lover and also love to "tweet," there is something fun going on tonight at 9pm EST.  It's an on-line pork twitter party hosted by none other than my daughter, Kristina of BetterRecipes.com alongside the National Pork Board!  Kristina will be discussing the wonders of pork along with great recipes and even prizes.  For those who participate, there will be prizes given away every 10 minutes, including gift cards for pork and Calphalon cookware!  For more information, click on Kristina's site, and then go have a blast, or should I say, go hog wild.
Be sure to follow Kristina on twitter as @BetterRecipes and the National Pork Board @allaboutpork.  They will be using the hashtag #TenderloinTues throughout the party.  Of course, you can also find me @CulinaryCellar!