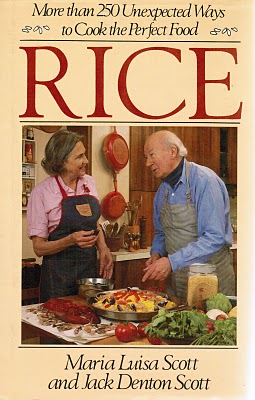 "A meal without rice," the Chinese say, "is like a beautiful woman with only one eye."  In Indonesia, rice is the gift of the goddess Dewie Srie, and no girl can be considered ready for marriage until she can skillfully prepare rice.  Rice fields in Japan are given names as if they were people.  Throughout Japan, there are thousands of miniature shrines of Inari, the rice god.  The custom of pelting newlyweds with rice originated in China and India as a fertility rite.  The thrown grains are supposed to grant young couples many children and prosperity.  A story also goes that our gourmet president, Thomas Jefferson, risked his life to smuggle a pocketful of seed out of Italy.  He was impressed with the quality of rice grown in the Po Valley, and knowing that smuggling it out of the country was a crime punishable by death, Jefferson still took the chance and brought Italian rice back to Monticello.  So what exactly is this remarkable grain that people not only have risked their life for, but is responsible for the survival of millions of people.  Some archeologists believe it was cultivated in Southeast Asia and Southern China 5,000 years before Christ.  Others say it originated in India in 3,000 BC.  Whenever it was cultivated, chefs and cooks today are very happy it is still in abundance.  Rice costs pennies, is nutritious, and is a very versatile food product.
This 1985 cookbook has "more than 250 unexpected ways to cook the perfect food."  It not only has excellent recipes, but a fascinating history lesson as well.  The authors traveled all over the world in search of rice recipes.  Everywhere they went, they found adventure and good food, but say that the common food demoninator anywhere they traveled was simply, rice.  They found Italians with risotto masterpieces.  Spain's paella is so outstanding that it is regarded as the national dish.  The Creoles in Louisiana create gumbos and jambalalyas.  It is even said that the Cajuns can look at a field of growing rice and rattle off the number of gallons of gravy needed to serve with that amount of cooked rice.  Seems the world loves rice in all its forms.
I would love to have one of those very large, very expensive copper paella pans.  The closest I have come is a paella Christmas ornament.  When my daughter Kara lived in Salamanca, Spain, she bought back the beautiful ornament, which is a very tiny copper pan and even has real rice glued to it.  I have never seen anything like it.  It's all packed up in my Christmas ornaments or I would post a picture for you.  It looks like you could eat it!  The paella recipe in the cookbook sounds amazing.  It contains chorizo, chicken, ham, shrimp, and clams.  In other words, "the works" paella.   Another recipe I can't wait to try is the "Frango com Arroz" which is a Portuguese chicken and rice one-pot meal using bacon, chicken thighs, onions, and red peppers with a port wine rice garnished with stuffed olives and oranges.  You can almost smell all the flavors simmering on your stove. 
This cookbook has so many delectable recipes from German Rice Salad to Strawberry-Rice Custard, and includes rice with fish, poultry, game, soups, vegetables, meats, salads, and desserts.  This is one of those cookbooks that one can tell was developed with love and care  by just looking at the cover photo.  Don't the two of them just look happy to be in the kitchen together cooking and talking?  They have stories to tell with many of the recipes about how they found the recipe, who they dined with, and what they learned so they could write this book.  And by the way, their paella on the cover looks like my Christmas ornament from Spain!