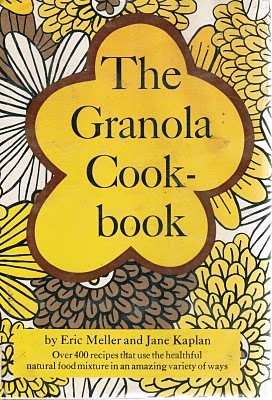 Back in the early '70's when I lived near San Francisco, it was definitely a time when hippies were in residence.  Haight-Ashbury, Golden Gate Park, and  Sausalito were just a few of the hang-outs.  And more times than not, one would see granola sold in every health food store or co-op.   At the time, it was not a widely distributed product, and was considered a healthy, albeit peculiar, type of cereal. But, hey man, it was natural!  Far out! 
The cover of this 1973 cookbook screams '70's with its flower power drawing.  Even though there are some interesting and great-sounding recipes in the book, I still got a kick out of some of the descriptions on making granola.  For example, here are some excerpts from the book where the authors instruct us to do such things as "relax and let yourself get into the process of creating a very real food.   Make believe you are a child playing with grains.  Really sense the sensual change that happens when the wet ingredients are mixed in.  In general, make sure there is a clear communication between the rational adult and the impulsive child in your head, so that you won't have to go through cycles of spending time first with the child stuffing yourself with granola, and then with the adult wondering what happened." Or, referring to what kind of granola to make, "Once you have gotten in touch with exactly what it is you want, then let yourself have it. And really be aware of having it, really let yourself have it.  Lie down and go with the urge, see what it is.  Be sensitive to your urge and follow it where it takes you."  Okay, are you ready now to go sit on the beach and read Jonathan Livingston Seagull?  Or light some incense?  All kidding aside, the cookbook offers hundreds of ways to use granola, from a simple breakfast to meat dishes, stuffings, vegetables, eggs, cheese, pasta, salads, breads, and sweet treats. 
Granola has come a long way in the past few decades.  Now, of course, it is everywhere in many forms.  Granola bars are a daily staple for many school lunches and for snacks.  But I want to tell you about some incredible granola you can buy.  I just tasted some last week and I will be ordering it again.  It's called "
Julie Anne's Granola
," and it will knock your socks off!  The granola comes in four flavors:  Sweet Citrus, Maple Blueberry, Tropical Bliss, and the newest, Berry Yummy PB& J.  I can tell you that they are all amazing.  My daughter, Kara, has eaten the PB&J package almost single-handedly, and my husband Bill and I fight over the other flavors.  I love it straight from the bag, or have it with some Greek yogurt.  Go to the website and read how to order or where you can find it in your city.  There is also lots of other info on the site, and some great photos of Julie.  Thanks, Julie, for such a great product.  Now you need to write a granola cookbook so I can have a new one.  Now that would be cool!