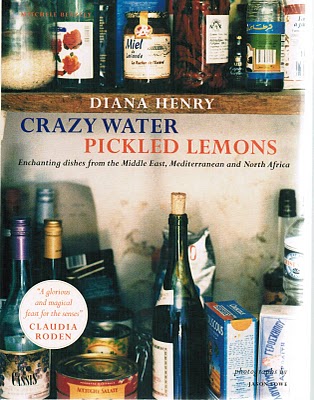 On my last trip to New York City, I went to one of my favorite cookbook haunts,
Kitchen Arts and Letters
on the Upper East Side on Lexington.  It has 13,000 cookbook titles including domestic, imported, contemporary, and out-of-print.  They serve chefs, caterers, home cooks, food writers and scholars, and anyone else with an interest in the food world.  Ahhh… how I love this store.  With so much to chose from, where does one start?  I could have bought dozens and dozens of books, but I didn't want to tote them back to my daughter Kara's apartment at the time, which was not terribly far away, but still a jaunt, along with facing 5 flights of stairs once we got to her place.  Since I had to select carefully, I wanted a kind of book I didn't already have in my collection.  I decided to find something with an engaging title and highly interesting recipes. 
Crazy Water, Pickled Lemons
fit the bill perfectly, since it has says on the cover, "Enchanting dishes from the Middle East, Mediterranean, and North Africa."  First of all, I love the word "enchanting."  Secondly, I don't have enough books yet on the cuisines from those areas- at least not compared to other subjects on my stocked shelves.
Author Diana Henry was inspired by Claudia Rosen's book, New Book of Middle Eastern Food.  One day she curled up with it on a rainy, darkening  London evening and began to read.  As Diana read the text and recipes, she felt transported to the streets of Cairo.  In her imagination she could smell the musk and jasmine in the air, and having tea in tinkling glasses.  It was like reading a cookbook version of The Arabian Nights  with visions of ripe figs, sticky dates, and the scent of rose water.  It was like traveling while standing still.  With this much inspiration, Diana discovered new foods and new recipes.  Our love of foods has as much to do with what they represent as with what they taste like.  The recipes in the book have been garnered from cooks she has met, food writers, chefs from around the world, as well as her own recipes. 
The recipes will bring an intoxicating whiff of the exotic to your table.  Consider stuffed chicken with a quince, honey, and garlic mayonnaise; lavender chocolate truffles; pasta with anchovies, pine nuts, currants, and saffron; or one of my favorites, Sicilian tuna with stemperata sauce which has raisins, olives, capers, red onion, and fresh herbs.  The book is like going for a journey with your taste buds and your mind.  With food, you don't need to buy an airline ticket to be transported somewhere else.  The magic can be right in your own kitchen.  Let this book take you there.