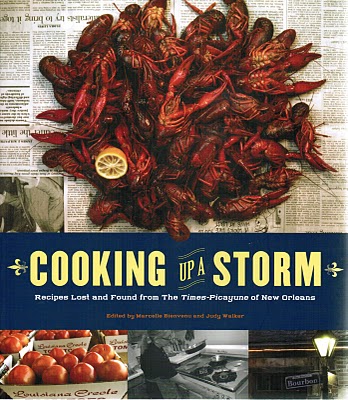 My oldest brother Paul, who lives in the Kingdom of Tonga in the South Pacific, emailed and asked me if I had ever heard of
Marcelle Bienvenu, "The Queen of Cajun cooking
."  Paul listens to a weekly National Radio Program from Australia called
"Late Night Live
" with Phillip Adams.  Mr. Adams recently had Marcelle Bienvenu as his guest, where they discussed Cajun cuisine.  It was an entertaining program and you can
listen to it
, too.   Paul enjoyed the program and was interested to know if I had any of her cookbooks – and here it is.
Cooking up a Storm is more than just a fabulous cookbook.  Marcelle Bienvenu and Judy Walker, along with The Times-Picayune newspaper of New Orleans, compiled the recipes for the cookbook.  After hurricane Katrina devastated the city, residents lost their keepsakes and family treasures forever, including generations of recipes.  As the residents began to rebuild their lives, the Times-Picayune became the post-hurricane swapping place for old recipes that were washed away in the storm.  The book has more than 225 authentic New Orleans-style recipes, along with the stories of how they came to be and what they mean to those who have searched so hard to replace them.
The stories are told recipe by recipe, of one of the great food cities of the world, and the determination  to safeguard and preserve the culinary legacy.  When Katrina smashed through New Orleans in 2005, the Times-Picayune served as a strong voice for its city.  The staff was eventually able to return to their building, and the food section of the paper resumed publication.  The editors knew of New Orleans' deep relationship with food.  In New Orleans, food is culture, family, comfort, and life.  In the immediate aftermath, displaced citizens turned to the comfort foods of their indigenous dishes to other places in the country where others did not know an etouffee, a King Cake, or a beignet.  The displaced residents turned to these foods to give them both physical and spiritual sustenance as they struggled to rebuild their shattered homes and lives. 
The newspaper immediately sought to replace the lost treasured recipe collections, most of them gathered over a lifetime.  A faithful reader asked the food editor, Judy Walker, to have a new theme for a recipe exchange column   known as "Exchange Alley." Walker invited residents to participate in this new theme called "Rebuilding New Orleans Recipe by Recipe."  It became a weekly swap-fest of recipes, not just family recipes, but from favorite restaurants, also victims of the devastation.  One hard-hit resident, Judy, who lost her home and business also broke both her legs in the storm, and couldn't get medical help for two days.  Her husband set her legs as best he could.  Even with all this around her, Judy said she thought about her recipes and cookbooks.  She wrote to the newspaper and asked if they could come up with a cookbook of all the recipes printed over the years.  Dozens and dozens of similar letters arrived, and it became clear that the community wanted to keep its rich culinary history, one recipe at a time, and one comfort meal at a time.  It was the beginning of this wonderful cookbook. 
The editors asked Marcelle Bienvenu, co-author of four other cookbooks, to take on the challenge of building the book, not just with recipes, but with stories.  You will read about people who opened the first Cajun restaurant, how Louis Armstrong honored red beans and rice, and a legendary spaghetti sauce recipe.  You might even pick up a few etiquette pointers along the way.  Cooking up a Storm will offer you great recipes and the stories will reveal the determination of its citizens to preserve their culinary legacy.  It is a cookbook that will warm your heart and feed your spirit.