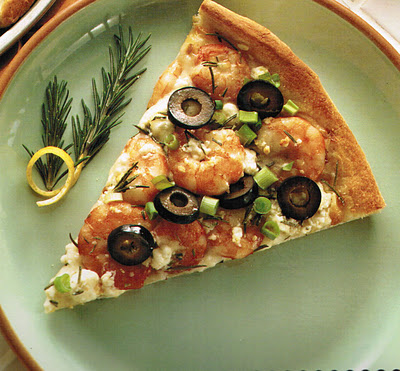 In honor of the Pillsbury Bake-Off contest later this month (watch for lots of fun info coming up!), I thought I would post some of the contest entries throughout the month.  This was my own entry from Bake-Off # 34, and my daughter Kara wanted to make it for her dinner tonight, so here is the recipe for you, sweetheart!  
Shrimp and Feta Greek-Style Pizza
1 pound uncooked fresh medium-sized shrimp
1 Tablespoon cornmeal
10 ounce can Pillsbury Refrigerated All Ready Pizza Crust
4 ounces (1 cup) shredded mozzarella cheese
1 Tablespoon olive oil
2 cloves garlic, minced
2-1/2 ounces (1/2 cup) crumbled feta cheese
1/4 cup sliced green onions
1 Tablespoon chopped fresh rosemary
2-1/2 ounce can sliced ripe olives, drained
Shell and devein shrimp; set aside. Heat oven to 425 degrees. Grease a 12-inch pizza pan and sprinkle with the cornmeal. Unroll the dough and place in greased pan; starting at the center, press out with hands. Sprinkle with the mozzarella; set aside.
Heat the olive oil in a large skillet over medium-high heat. Add shrimp and garlic. Cook until shrimp are light and pink, about 1 minute, stirring frequently. Spoon over mozzarella cheese. Sprinkle feta cheese, green onions, rosemary, and olives evenly over shrimp. Bake at 425 degrees for 18-22 minutes or until crust is golden brown. Makes 6-8 servings. (Each slice is 230 calories and 9 grams of fat).